The Book: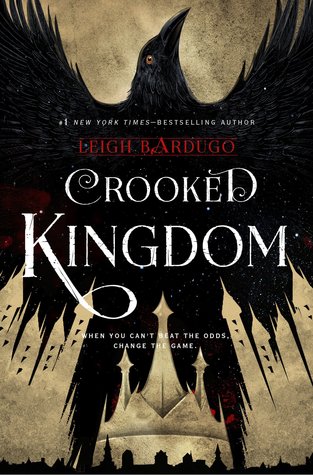 Book Title: Crooked Kingdom
Book Author: Leigh Bardugo
Page Count: 536
Publishing Date: September 27th 2016
Publisher: Orion Children's Books
Date Read: July 22, 2017
The Review:
Crooked Kingdom is the epitome of a perfect book. This heart racing sequel to Six of Crows will have you you the edge of your seat. Praise is well deserved for this action packed adventure!
"Sometimes a proper thief doesn't just take. He leaves something behind."
The Plot: In the aftermath of "the impossible heist" things continue to turn dangerous for Kaz and his crew. The deadly group of misfits must overcome more obstacles to re-unite and escape the world of hell that is raining down on them from all corners of the kingdom…
"Has anyone noticed this whole city is looking for us, mad at us, or wants to kill us?"
Oh, the feels!! I never thought I would be calling a sequel my new favorite book, but…Crooked Kingdom is my new favorite book! Leigh Bardugo has delivered perfection. Yes, it is a sequel, but it honestly reads well enough that you don't necessarily have to read Six of Crows (though I HIGHLY recommend reading it, as they are a pair and Six of Crows was fantastic). The author has done an incredible job with catching you up in the beginning of the story so, no matter how long its been since you finished book 1, you don't feel like you need to re-read it to be kept up to date. This story holds laughter, sadness, pity, admiration, fear, action, adventure, justice, revenge, and death.
"People point guns at each other all the time in Ketterdam. It's basically a handshake."
The book quickly jumps in to action, as there is never a dull moment. We learn more about the characters through flashbacks that are both relevant to the current story and a perfect length as to not digress too much in to the past but still help us learn exactly who they are. The characters are further developed with astounding backstory and we grow even closer to each one of them. There is so much emotion in the heartbreaking stories of each character that drives them to be the exceptional criminals that they are.
"…there would be no expensive burials for people like them, no marble markers to remember their names, no wreaths of myrtle and rose."
The plot twists of the story are amazing. Bardugo does an exceptional job with keeping us guessing at every turn. Just when you think Kaz has been out-schemed, he pulls another scheme out of his sleeve! Each situation has a surprising, unexpected outcome that still fits and makes sense in hind sight. And the world building is incredible! You can picture everything so clearly as if you were right there in the midst of the fight!
"Sorry I almost got you stabbed. Who wants waffles?"
This duology has ensured the fact that I will read every book by Leigh Bardugo that I can get my hands on, no questions asked. Crooked Kingdom gets all the stars and moves to my number 1 read for 2017! Don't miss out on this amazing adventure! (All quotes used are from the book, written by the author, Leigh Bardugo.)
"No mourners, no funerals…"
---
  Darque Dreamer 
Blogger/ Punk Rocker / Quirky Housewife
---