The Book: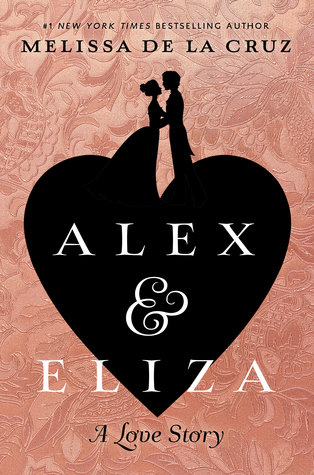 Book Title: Alex & Eliza
Book Author: Melissa de la Cruz
Page Count: 368
Publishing Date: April 11, 2017
Publisher: G.P. Putnam's Sons Books for Young Readers
Date Read: July 27, 2017
The Review:
In a time when money, reputation, and love for country mean everything, a daring young lady and a poor soldier find that love just might be enough. Alex & Eliza is a lyrical tale of romance during the American Revolution. This one is perfect for fans of Pride and Prejudice!
The Plot: An epic love story begins with a ball. Not Cinderella, but Alexander Hamilton and Elizabeth Schuyler. The Schuylers are one of the most distinguished families of the century with three beautiful, strong, "of age" daughters. With the oldest, Angelica, and the youngest, Peggy, both having potentials suitors, Eliza is left to find one of her own, until she meets the dashing Alex. But it is not love at first sight. Two years pass after that night of the ball, and Eliza finds herself in the middle of the war effort, falling madly in love with Alex, but also having to cater to family duty to search for a wealthy suitor to combat her family's financial downfall. 
I have to go ahead and admit that I may not have loved this one as much as I could have, simply because I picked it up so soon after finishing Crooked Kingdom by Leigh Bardugo. I did love it, and I found it intriguing and adorable, but I also found it to be a bit dull. It had bits of humor and some interesting characters, but it felt like a less complex version of Pride and Prejudice. Honestly, that is both a good thing and a bad thing, because I LOVED Pride and Prejudice, but I felt like I could have just read that one again instead.
The story was cute. It felt like there was a decent amount of information about the time and the war, which made the story feel like it was not partially fictional. I enjoyed Eliza's character, as she was sensible, kind, and caring. I also enjoyed Alex's character since he was brave, dashing, and a perfect gentleman. Aunt Gertrude, though she had her "Mrs. Bennet" moments, turned out to be quite the awesome, motherly character to Eliza and her sisters.
The book had several enjoyable moments. I enjoyed reading about Eliza visiting the infirmary and caring for the soldiers. The lab tech in me also enjoyed the bit about the small pox inoculations. It was a cute, quick read, and the writing was beautiful, but it just dragged a little bit. It did pick up pace towards the end though.
I would rate this one 3-3.5 stars ( or 3 faeries, as to avoid butchering one of my lovely ladies). I enjoyed it, and got lost in it for a few moments. I would even recommend it for those wanting a classic feeling read and setting written in modern day, but I feel like it could have been more fictionally exciting.
---
Darque Dreamer
Blogger/ Punk Rocker / Quirky Housewife
---