The Book: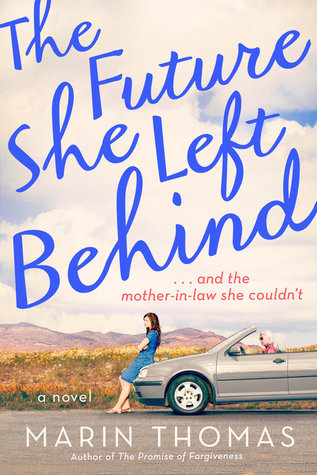 Book Title: The Future She Left Behind
Book Author: Marin Thomas
Page Count: 352
Publishing Date: September 5th, 2017
Publisher: Berkley
Date Read: August 10th, 2017
The Review:
Prepare to fall in love with this charming story of life, love, and family. The Future She Left Behind is beautifully written and shows us that "life happens". This one holds humor, small town glamour, and self discovery.
"Katelyn had always wanted to find something she and her mother-in-law could bond over–she just never imagined it would be Don's infidelity."
The Plot: After 19 years of marriage, a set of twins heading off to college, and becoming the "babysitter" to her forgetful mother in law, Katelyn is suddenly faced with a gripping reality. Her husband files for divorce and admits to cheating. So, what's a woman to do when she realizes she no longer knows who she is? She decides to take off to visit her mother in her home town of Little Springs, Texas. There's just one problem. Her mother in law's new apartment is not ready to be moved in to, and her husband is still away on business, so she is forced to bring her mother in law with her. Can Katelyn find herself again in her hometown, stuck with a woman she hates, and faced with a possible reconciliation with her high school sweetheart?
"The way things were going with this visit, she'd need to make a liquor run and stock up on the happy juice."
The Future She Left Behind is such a beautiful story! It is a perfect example of what happens when we become complacent in life and lose ourselves. It shows us that we should never give up on our dreams or settle, and it shows the importance of family and finding one's roots. I feel like the author drew inspiration from Steel Magnolias, Hope Floats, and Legally Blonde. This book is full of life, love, laughter, and strong women. It is a story about learning to open up to those around you, and it is a story of self discovery for several of its characters.
"When the locomotive drew closer, she shut her eyes and concentrated on the tremors in the ground beneath her feet…Years ago she'd stood by these tracks and envisioned herself jumping in to an empty boxcar as the train sped by. She'd imagined the faraway places she'd see."
Our main character, Katelyn, is a beautiful, strong woman that finds herself lost in life. After her 19 years of marriage, she has become complacent and unhappy. After she finds out that her husband cheated, filed for divorce, and put their house on the market, she decides to find herself again. It takes her hometown, her mother, her mother in law, and her old flame to prove to her that she was hiding inside the whole time. What emerges from her cocoon of life is a stunning, happy, talented butterfly, strong enough to live in the here and now and enjoy her life and family.
"How had she gotten lost when she'd left this place to find herself?"
Katelyn's mother, Birdie, is also a beautiful, strong woman complacent in life, knowing she gave up on her dreams. She is a woman who is used to working for a living to make ends meet. It takes the help of her daughter to realize that she, too, should try to find herself again and revisit the talent she left behind. Birdie becomes more connected to her daughter, her love for music, and her new friendship with Katelyn's soon to be ex-mother in law.
"I like birdie because no matter how tired she is, she's always got a smile for you when you get to the register."
Katelyn's mother in law, Shirley, is a misunderstood, ornery, stubborn woman. She starts off being stuck in her ways, snooty, and manipulative. It takes the town of Little Springs, Birdie and her friends, Katelyn, and another lonely soul to help her discover the lonely, fun loving woman dying to come out.
"She googled ammonium thioglycolate: a pungent, colorless, clear liquid that burns the eyes, nose, lungs, and may explode if subjected to high heat–that described Shirley Pratt to a T."
And finally, we have Katelyn's old beau, Jackson. Jackson is known for being the town bad boy in his youth. He is coming to terms with the mistakes he has made in life and realizing that he only he is responsible for his past and only he can be responsible for his future.
"Jackson looked older, but there were still traces of the young man she'd fallen hard for in his dark gaze. Silver strands mixed with black along his temples gave her beloved bad boy an almost respectable air.

"
Pretty much every character in this book has a "not so shiny" past and undergoes some sort of self discovery. The story is real, heartfelt, and entertaining. If you are looking for a "feel good" story with well written characters, charming imagery, and beautiful morals, then look no further than The Future She Left Behind.
Thank you to First to Read to providing me with this free e-ARC in exchange for my honest review.
---
Darque Dreamer
Blogger/ Punk Rocker / Quirky Housewife
---