Buddy Read:
Happy Sunday everyone! I hope you all are having a fantastic weekend! Tomorrow Coffee Loving Bookaholic and I will be starting our buddy read of Throne of Glass by Sarah J. Maas. If you have a copy, you are welcome to join us, as we will be discussing the first half of the book this coming Wednesday, and discussing the rest of the book in 1 week. If you have already read the book, feel free to join the discussion for each part and let us know what you think!
The Book: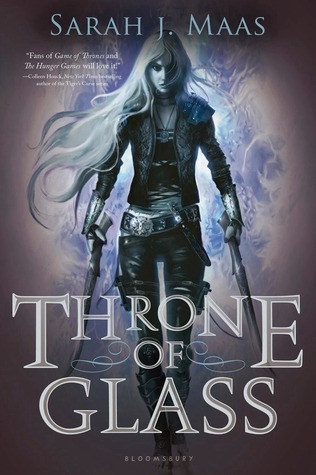 Book Title: Throne of Glass
Book Author: Sarah J. Maas
Good Reads Synopsis: In a land without magic, where the king rules with an iron hand, an assassin is summoned to the castle. She comes not to kill the king, but to win her freedom. If she defeats twenty-three killers, thieves, and warriors in a competition, she is released from prison to serve as the king's champion. Her name is Celaena Sardothien.
The Crown Prince will provoke her. The Captain of the Guard will protect her. But something evil dwells in the castle of glass–and it's there to kill. When her competitors start dying one by one, Celaena's fight for freedom becomes a fight for survival, and a desperate quest to root out the evil before it destroys her world.
Expectations:
I am a Maas newbie, but have heard plenty of wild and crazy things about both of her popular series. I am hoping for action, adventure, magic and fantasy! I have heard that this book is not as fast paced as the rest of the series, but that I will enjoy it nonetheless.
I have heard that her fans tend to love the ACOTAR series more, but have also heard much controversy over the books and the sex scenes in the series. I am hoping I do not find that with this series. I like more left to the imagination when it comes to sex scenes.
Other than that, I have tried to steer clear of a lot of the hype, so I am able to form my own opinion. I am looking forward to reading this with my Bookaholic buddy Alex, and hoping for some fun discussion!
If you decide to read along with us, or plan to read in the future, what are your expectations of the book and series?
Q & A with Alex:
Me:

What are you most excited about in regards to the series and book 1.

Alex: I am mostly excited about finding out, if this book will have me gripped right from the start, or if I will need some time to get into it. I think my biggest excitement is towards these characters and the world and to see it finally all come together after hearing so much about this series. I really want to be part of this world and i really want to like this book to have me turning the pages. I think I am mostly excited about finding out, if the hype for this book or the series in general is deserved.

Me: To answer my own question, I am most excited about the fantasy and action. I am also excited about the potential to have highly developed characters. I want to fall in love with the series like I have seen so many others do.
Me:

What expectations do you have of the author after hearing all the rumors about the ACOTAR series?

Alex: Honestly, I have very high expectations of the writing style. I heard so many great things about Sarah J. Maas' writing and how she can create great characters and a great world that will have you shook. So basically, i am ready to be blown away and sucked in. But I also heard, that there is not much diversity in this series, which only gets better in the later books. So i do not have that many expectations for "Throne of Glass". I also heard, that this series is YA and not New Adult like the ACOTAR series. So i think it won't be that graphic and full of sex scenes, which is fine for me, because I didn't want to start with her New Adult series, I wanted to start with YA.

Me: Again, to answer my own question, I have similar expectation to Alex. I expect a unique, developed writing style and mind blowing characters and plot twists!
Me:

Have you heard anything negative regarding this series, and book 1, that you are hoping to prove wrong?

Alex: The only negative thing I heard is that "Throne of Glass" is one of the weakest books and the series just picks up and gets better and better with the following sequels. I hope, that "Throne of Glass" will prove me wrong, because if I don't like this book, I won't continue with the series, because I don't want to invest my time in stories and characters that I don't like, even if the following books are supposed to be better.

Me: To answer my final question, I have heard the same as Alex in regards to this being the weakest book of the series. I am hoping that I will love it and want to immediately move in to the next book!

Make sure to head over to Alex's blog at Coffee Loving Bookaholic to see her post and to read her half of the Q & A!
---
Darque Dreamer
Blogger/ Punk Rocker / Quirky Housewife
---