The Book: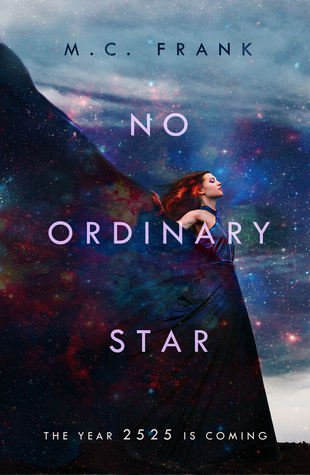 Book Title: No Ordinary Star
Book Author: M.C. Frank
Page Count: 166
Publishing Date: November 7th, 2015
Publisher:Createspace
Date Read: August 18th, 2017
The Review:
No Ordinary Star is an immersive, fast paced story that reads like a dream. It is elegantly emotional and captivating. Prepare yourself for an astronomical amount of imagery!
"And in his dreams comes a fairy, riding an angel clouded in plush white fur, her hair on fire…"
The Plot: In a futuristic world where hunger, sickness, and human emotions are things of the past, a soldier and an unusual girl cross paths in the North Pole. He is summoned to fix the great Clock responsible for bringing in the new year, 2525. She is a criminal on the run having come close to death in the icy wilderness. Together they uncover secrets of their pasts, and a long forgotten library beneath an icy shack in the middle of the snow.
Can I just say WOW! The entire time I was reading, I felt like I was in a dream state. M.C. has written this with such amazing imagery and sensory emotions! I became lost (in a good way) in the story and each time I looked away from the book, I was oblivious to my surroundings. I thoroughly enjoyed the writing style and the way the book made me feel towards our two, lost characters.
"Her heart constricts with a sadness so overpowering at this realization that she can think of nothing else. She feels a hollowness in the pit of her stomach, her eyes stinging with tears."
Felix was so intriguing and complex. He gets broken down layer by layer. Literally, he went from being an emotionless soldier who doesn't eat real food, or sleep, to being an actual human being! Everything broke away, revealing someone who held a hunger for the world and for human companionship.
"He doesn't look like a Drone at all. He looks…he looks like a Felix. he looks like something only he could be in the entire One World, in the universe. People used to look like that, once…"
Astra was mysterious and fierce. She was brave, complex. and emotionally open. She added a layer of innocence and depth to the story while bringing out sympathy and empathy from the reader. I loved her and her fiery red hair!
"She's not a fairy, not really. She's just a girl, small boned and wild-haired."
Though the book was short, it packed a punch. It drew me in and brought me closer to our main characters. I felt sympathy for the lives they led. Both different lives, but both devoid of true human companionship and many other things we take for granted, such as access to books and the safety and comfort of a bed. I learned so much about both the characters and the background story of the world. I am so excited to jump in to the next two books very soon!


Thank you to the author for providing me with this free e-ARC in exchange for my honest review and as part of being a proud member of the street team!
All quotes used are from the book, written by the author.
---
Darque Dreamer
Blogger/ Punk Rocker / Quirky Housewife
---