Happy Wednesday everyone! Today is part 1 of my and Coffee Loving Bookaholic's Buddy Read.We have made it about half way through the book and have been discussing what we love so far! For those who are reading with us, please join the discussion in the comments!

The Book: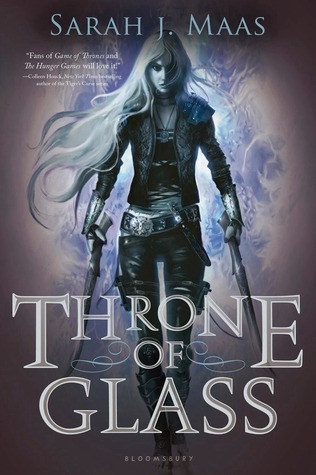 Book Title: Throne of Glass
Book Author: Sarah J. Maas
Good Reads Synopsis: In a land without magic, where the king rules with an iron hand, an assassin is summoned to the castle. She comes not to kill the king, but to win her freedom. If she defeats twenty-three killers, thieves, and warriors in a competition, she is released from prison to serve as the king's champion. Her name is Celaena Sardothien.
The Crown Prince will provoke her. The Captain of the Guard will protect her. But something evil dwells in the castle of glass–and it's there to kill. When her competitors start dying one by one, Celaena's fight for freedom becomes a fight for survival, and a desperate quest to root out the evil before it destroys her world.
My Thoughts So Far:
I have to say that I am really loving the book so far. Maas has an exceptional writing style that offers highly developed characters and intense world building! I know many people have said that the pace of this one is slow, but I am enjoying it. I am being introduced to all the necessary characters. I am getting all the backstory I need, and I am getting the current plot unfolding at a steady pace. I am also loving the little bits of humor mixed in!
I am enjoying the tournament too. I can see why Mask of Shadows by Linsey Miller has been compared to this one. The tournament is pretty interesting (like Hunger Games meets Reign) and has a few interesting plot twists.
Celaena is pretty awesome, and definitely a force to be reckoned with. I find her to be calculating, brave, curious, comical, and dangerous. I like Prince Dorian and Captain Chaol. Dorian is very rebellious, and Chaol is mysterious and gentlemanly. They are both equally handsome and alluring. The character I feel like I need to expect the most from is curious Princess Nehemia. I have an awesome feeling about her and I love her already!
As of right now, there is nothing I dislike about the book. I am looking forward to finishing it in the next few days! My expectations have been on par so far. I have enjoyed a good amount of action, a little bit of fantasy (hoping for more), and fantastic, developed characters and writing style. I feel like this book has characteristics from the TV show, Reign, which was one of my favorites!
Favorite Quotes So Far:
"She hadn't tasted fear in a while–hadn't let herself taste fear. When she awoke every morning, she repeated the same words: I will not be afraid."
"No, he had to remember she was an assassin with the blessing of a pretty face and sharp wits. she washed her hands with blood, and was just as likely to slit his throat as offer him a kind word."
"Despite her arrogance, she was clever and relatively kind, and somewhat charming, But where was that writhing darkness?"
Q & A With Alex:
Me:

How do you feel about Celaena being an assassin who enjoys killing but sympathizes with slaves and seems to have morals?

Alex: I think that Celaena has a dark past we don't know about yet! I think something bad happened, that made her who she is. Of course she was taken in and made an assassin but I also think, that her past has a lot of influence on the way she looks at the slaves. Also being treated like a slave made her develop feelings towards other who treat people badly and being an assassin enables her to "get rid of" the bad. Like she's doing everybody a favor. And so far, I honestly have no problem with it, but the killing hasn't happened yet, so we'll see.

Me: I feel like it is really interesting to see an assassin with a conscience. I understand why she is opposed to the idea of slaves, but when she shows other signs of morals I find it intriguing since she enjoys killing so much.
Me:

How do you feel about Princess Nehemia as a character and as a potential plot twist in regards to the rebels?

Alex: I really like princess Nehemia as a character. The relationship between her and Celaena is great and these two make a good team. It seems as Nehemia knows a little bit more about the wyrdmarks and i guess those two will get together once they both have spoken the truth to each other. Badass female team: yes!

Me: I am loving Princess Nehemia!! She is so intriguing and I am definitely expecting her to be a total bad ass with a hidden agenda. I am hoping to have a major plot twist involving her and the King's court.
Me:

How do you feel about how easily Celaena fell in with the court life?

Alex:  Honestly I had a thought at the beginning regarding this and it was like: "oh, that goes pretty fast." But I dismissed it pretty quickly because I think the pace is great and there is so much other stuff happening, that I don't mind at all.

Me: I thought it was a little strange to see Celaena fall in to court life so quickly when she spent a year in the mines and years before that living as an assassin. I do think it shows her determination and her ability to blend in though.
Me:

Who is your least favorite character, and why?

Alex: Definitely Kaltain. But I think she is written that way – like nobody is supposed to like her. I also don't get why she has her own POV, but I guess she's going to play a much bigger role than the jealous girl!

Me: Lady Kaltain is definitely my least favorite as well. We are obviously meant to hate her, as she is causing stress for Celaena. I almost wish she had been hit with the flower pot, hehe!
Me:

How do you feel about the character and plot development and pace so far?

Alex: Honestly, i really, really like it! I think the pace is great and it's easy to follow. It's not boring at all and there's enough mystery that keeps me going. I am excited to find out about the magic, the wyrdmarks, the killer and whatever is going to come! As far as the character development, I really like how Calaena is learning to hold back although she wants to be best. I also like the development of Dorian and Chaol and I think everything is working out great so far.

Me: I have to agree that I love the character and plot development! I am blown away by the writing style (as I expected) and I am looking forward to continuing the series! I love how the writing style allows us, as readers, to get character and plot history without feeling like we are getting info dumps. I love the personality differences between all the characters and I am enjoying this pace, as it is perfect for the first book in a series.

Head over to Coffee Loving Bookaholic's post to read the rest of the Q & A!
---
Darque Dreamer
Blogger/ Punk Rocker / Quirky Housewife
---