Happy Sunday everyone! I hope you all had a fabulous weekend! Today is part 2 of my and Coffee Loving Bookaholic's Buddy Read Discussion! We have recently finished the book, and have loved every minute of it! Please feel free to join our discussion and let us know what you thought about the book!
The Book: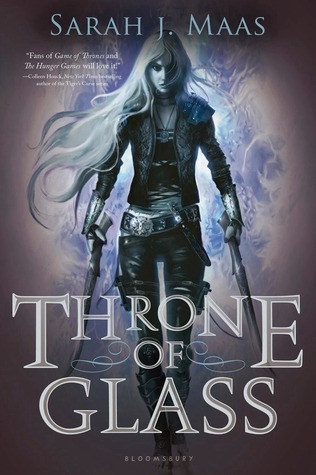 Book Title: Throne of Glass
Book Author: Sarah J. Maas
Date Published: May 7th, 2013
Publisher: Bloomsbury USA Children's
Page Count: 404
Date Read: Aug. 27th-Sep. 2nd, 2017
Good Reads Synopsis: In a land without magic, where the king rules with an iron hand, an assassin is summoned to the castle. She comes not to kill the king, but to win her freedom. If she defeats twenty-three killers, thieves, and warriors in a competition, she is released from prison to serve as the king's champion. Her name is Celaena Sardothien.
The Crown Prince will provoke her. The Captain of the Guard will protect her. But something evil dwells in the castle of glass–and it's there to kill. When her competitors start dying one by one, Celaena's fight for freedom becomes a fight for survival, and a desperate quest to root out the evil before it destroys her world.
My Thoughts For Part 2:
I felt like part 2 picked up pace from part 1, in a good way. We spent part 1 getting a feel for the characters and story, so part 2 held more action. I loved the plot twists and the character surprises! I think we were meant to know from the beginning who was killing off the other champions, so I was okay with the predictability of that.
The character development seemed to continue on through to the end of the book. I still loved Celaena, and was left wondering about her ties to Elena and the Fae. Dorian has really grown on me. I was leaning toward team Chaol at first, but am now back in the middle because Dorian was just so persistent and seductive! I really loved Chaol though, and felt sympathy for him because he tried so hard to be a good guard and do what was right!
Lady Kaltain was my hated character. I think she was meant to be everyone's hated character, besides Cain and the Duke. She was so conniving and back stabbing!
I still found that I loved Nehemia. She had a pretty big secret, and she has proven to be a great friend to Celaena! I was left wondering what role she will play in the next book!
I would have to say that part 2 was slightly better than part 1. Though, part 1 was amazing, part 2 picked up the pace and gave us more action. It also gave us more secrets, more passion, and more betrayal!
Mild Spoilers:
The things Alex and I loved most about part 2 were: when Chaol was embarrassed to hear about Celaena's monthly cycle, Dorian's confession, and Nehemia's secret.
Favorite Quotes and Excerpts For Part 2:
"She was a criminal–a prodigy at killing, a Queen of the Underworld–and yet…yet she was  just a girl, sent at seventeen to Endovier."
~
"She laughed. 'Happy Yulemas, Dorian.'
'And to you as well. I can see that I–Are your teeth red?'
She clamped her mouth shut, shaking her head in violent protestation.
He grabbed her nose and pinched it closed, and try as she might, she could not dislodge his finger. She opened her mouth and he burst in to laughter. 'Been eating candies, have you?' "
~
"There was beauty in Chaol's face–and strength, and honor, and loyalty."
~
"I give you this name to use with honor, to use when other names grow too heavy. I name you Elentiya, 'Spirit that Could Not Be Broken.' "
~
"You could rattle the stars."
Q & A With Alex:

SPOILERS AHEAD!
Me: 

How did you feel about the pacing of part 2 in comparison to part 1?

Alex: Of course part 2 was more action packed, but i expected that. Some things needed to happen so I was glad we got some action. The only thing that threw me back, was the ball. I didn't like that chapter.


Me: I really enjoyed the pacing. It seemed to pick up a little, but fit the first book enjoyable pace.
Me:

By the end of the book, are you more team Chaol or team Dorian?

Alex: I have no idea! I like both of them so much! And they love her and they are great. But I don't know. It really frustrates me so much, because I hate heartbreak!

Me: I am still in between. I leaned toward Dorian after his confession, but I feel so bad for Chaol!
Me: 

Were you surprised by Cain's secret?

Alex: No, not really. We knew that he worked with the Duke and Kaltain also did, so they all knew Celaena's true identity and it just made sense. But on the other side I am sad, because it would have had much more impact, if it were someone who wasn't that obvious.

Me: I was not surprised that Cain was the one involved in the killing of the champions. I think we were meant to know all along. I had no idea that the King would have been involved though!
Me: 

What do you think about Celaena's past after what Elena said about 'magic calling to magic' and 'Blood ties'?

Alex: I am still convinced that Celaena has magical powers and that they will come out at some point. I am also pretty sure, that her parents were part Fae and that they were killed by the king. Maybe he found out and killed them. But it could also mean, that Celaena is from Elena's "bloodline" and that's why she can see her. I don't know, I am confused. (But if Celaena is related to Elena and Dorian comes from the Ardalans, then they are related and that would solve the love triangle, right? 😂)

Me: I had been wondering if Celaena is related to Elena somehow. I think she will have powers awaken in book 2!
Me:

We knew about the Duke and Lady Caltain, but what did you think about the King and the Duke?


Alex: No, i honestly didn't suspect that at all. It surprised me totally and also the black rings and all that power they have and that they are experimenting with it. Came out of nowhere and I loved it!

Me: I knew the Duke was underhanded, and I knew the King was an ass, but I had no idea they both knew so much about magic and that they were this deep in to plotting with each other!

Head over to Coffee Loving Bookaholic's post to read the rest of the Q & A!
Final Thoughts:
I have rated this book 5 stars! I loved the pace! It was perfect for the first book in a series. The character development was outstanding and the world building and story setting was phenomenal! Sarah J Mass had an amazing writing style which allowed us to get the character and story background we needed while we stayed in the present plot. I enjoyed having a buddy to discuss the book with and I really just enjoyed the book!
---
Darque Dreamer
Blogger/ Punk Rocker / Quirky Housewife
---