Wow! It's that time already! It is Calendar Girls Post time!! This month's theme is Best Contemporary Novel. So, before I get in to my contenders and my top choice, here is a reminder of what this awesome group is all about:
Calendar Girls is a monthly book group, formed by Flavia and Melanie, inspired by the song Calendar Girl by Neil Sedaka. This lovely group votes on a monthly theme to center a blog post around (first Monday of the month) and then discusses these posts on Twitter about two weeks later (third Sunday of the month). If this sounds interesting to you, please give Melanie and Flavia a visit and let them know you would like to join!
P.s. Just because it's called Calendar 'Girls' doesn't mean only girls can join! 
Best Contemporary Novel Contenders:
I've only got two contenders for this one since I don't read a lot of contemporary novels. If you have any suggestions, I am all ears (or eyes rather).
Most of you know and have read this one, so I won't go in to detail, but it was one of my favorite reads for 2017!
I am sure this will be a contender for most too. I loved this book and really enjoyed the movie!
Best Contemporary Novel:
My choice for best contemporary novel is set to be released tomorrow!!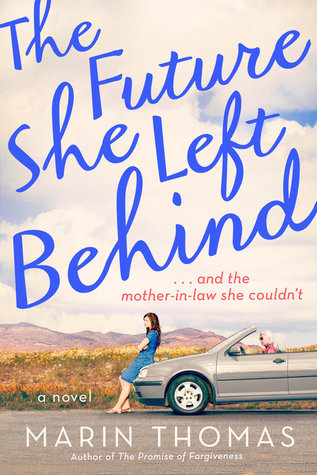 Book Title: The Future She Left Behind
Book Author: Marin Thomas
Page Count: 352
Publishing Date: September 5th, 2017
Publisher: Berkley
Synopsis: One woman's journey home gets derailed by her soon-to-be ex-mother-in-law in a novel filled with humor, small-town charm, rekindled love, and the resilient ties of family.
Cast aside by her cheating husband, Katelyn Chandler is ready to pack it all in and drive home to Little Springs, Texas. She wants a chance to regroup, reconnect with her mother, and get back to her art.
But Shirley Pratt–master manipulator, elitist snob, and Katelyn's terror of a live-in monster-in-law–has other ideas. Shirley insists on joining Katelyn's trip after her son tries to pack her off to a retirement community. Katelyn has no choice but to play peacekeeper between the ornery old woman and the proud matrons of Little Springs. Yet the small town seems to be changing Shirley. And as Katelyn weighs the wisdom of picking up where she left off with Jackson Mendoza, the town bad boy and her high school sweetheart, she must find a way to believe in the strength of her dreams.
You can find my review here!
As I said before, I don't read a lot of contemporary novels, but this one was so good that it made me want to branch out and find more in the genre! I already have plans to buy this book for my mom and my sister in law because I enjoyed it so much and was really touched by the story!
I really loved the humor and the character transformations in this one! I felt like it was Steel Magnolias meets Hope Floats meets Legally Blonde! It had a great message and a really heartfelt story line that has stuck with me!
---
Darque Dreamer
Blogger/ Punk Rocker / Quirky Housewife
---