The Book: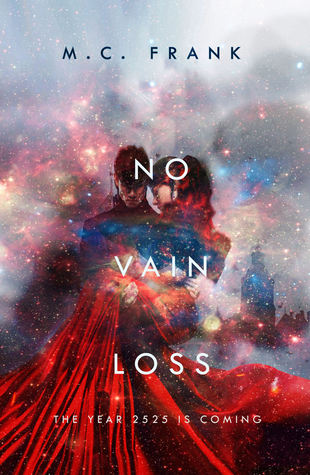 Book Title: No Vain Loss
Book Author: M.C. Frank
Page Count: 230
Publishing Date: November 25, 2017
Publisher:Self Published
Date Read: September 13th, 2017
The Review:
"The crowd watches the Clock in fascination, holding its breath, waiting for the spectacle to begin. Felix's heart beats in a slower frequency than seconds, but nobody has any idea how a heart beats -or how a clock ticks, for that matter – so at least that buys him some time.
Not much, though.
It's ten heartbeats to midnight."
No Vain Loss is beautiful and emotional. It is the end of a story, but the beginning of another. It is full of heartbreak and hope, fear, and love. It is a bittersweet finish to the highly immersive trilogy that started with No Ordinary Star. M.C. Frank has created another stunning, captivating book!
"She heard his heart beat, too… Wild, erratic, fierce. Human."
I don't know which book of the trilogy I love more (this one if I had to pick since each one got better). They are all elegantly written and hold such beauty and imaginative magnificence! I am so sad that the trilogy is at its end, but am so happy to have read such a fascinating, mesmerizing story! I can't say too much since I don't want to give away any spoilers, but this entire trilogy is definitely worth a read and will have you on the edge of your seat!
"Only now does he recognize what has been happening to him all these days…when he was rescuing a girl from a hole in the ice…All those moments were his starting point…"
No Vain Loss has a graceful ending. It has passion, excitement, sadness, and surprises! It has a page turning plot, and exceptional characters, both old and new! This one will definitely make you re-evaluate your thoughts on humanity and what it means to be "human". I will forever be in love with Felix and his morality. I will always love Astra's beauty, integrity, and strength. And I will always love that this trilogy is about human emotion, and the disconnection between humanity and reality. No Vain Loss, (and both preceding books), is rich, symbolic, and deeply thought provoking!
"And that's how it begins, the change"
Thank you to the beautiful author for providing me with this e-ARC in exchange for my honest review, and as a part of being a proud member of the #NOSStreetTeam!
All quotes used are from the book, written by the author.
Aesthetic Board:
---
Darque Dreamer
Blogger/ Punk Rocker / Quirky Housewife
---