The Book: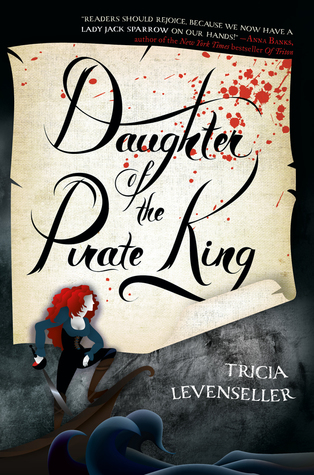 Book Title: Daughter of the Pirate King
Book Author: Tricia Levenseller
Page Count: 320
Publishing Date: February 28th, 2017
Publisher:Feiwel & Friends
Date Read: August 22nd, 2017
The Review:
Daughter of the Pirate King is a swashbuckling good time! This one is fast paced, action packed, and full of twists! Prepare for sword fights, adventure, cunning pirates, and a steamy romance!
"…but Riden is more handsome. No, not handsome. Rivaling pirates are not handsome. They're bilge rats."
The Plot: Alosa is daughter to the most fearsome pirate of the seas. As a pirate herself, she is sent on a mission. It's not a normal pirate mission though. Her mission is to get captured by a ship of enemy pirates to steal a treasured possession thought to be on board. Though the crew is no match for her strength, or wits, the devilishly handsome, first mate, Riden may prove to be her match in cleverness. Can Alosa pull all the tricks out of her sleeve, steal her target, and make it back to her father, The Pirate King, without falling for the cunning Riden?
"Of course, I couldn't make my capture look too easy. I had a part to play. Draxen and his crew can't suspect me. They can't know I was sent on a mission to rob their ship."
Daughter of the Pirate King had me from the very first sentence! It was ridiculously fun, entertaining, and humorous (chapter 8 was downright gut busting)! I loved the plot, action, and characters! I felt like it held a mixture of characteristics from Pirates of the Caribbean, The Princess Bride, and Peter Pan. I thoroughly enjoyed it, and decided to keep it close by in case I fall in to any reading slumps in the future.
"I hate having to dress like a man…The clothing is awkward as it hangs loose in all the wrong place. And the smell!"
I really enjoyed the plot of the book because it was unique to have a female pirate plan to be captured to complete her mission. There wasn't much world building needed, because the majority of the story was spent on a pirate ship, but I felt like the author did a great job with making me feel like I was on that pirate ship. It was a quick, easy read that had me laughing, kept me on the edge of my seat, and got my heart racing! And the characters were insanely entertaining!
"…the fact remains that you will be the only woman on a ship full of cutthroats, thieves, and blackhearts who haven't made port in a good long while.."
Alosa was my favorite. She was brave, fierce, and intelligent. She was clever, cunning, and hilarious! I enjoyed how the author wrote her character, and really loved her backstory.
"She's got a fiery temperament that matches the red hair atop her head. She's intelligent. I'd guess she's had some sort of proper schooling. As for her fighting and such. I'd wager she was trained by the pirate king himself…"
Riden was swoonworthy! He was sly, handsome, and mesmerizing! I loved the steamy pirate fantasy that he brought out! He was the dark, conflicted soul that held a bit of morality inside.
"He's too cocky for his own good, but I admit he's pretty. And he makes my blood boil, but mostly out of anger. He's a decent sort of fellow inside. But he chooses not to be on the outside."
Alosa's crew members, Mandsy, Sorinda, Niridia, and Zimah were pretty kick ass. I loved that Alosa had a mostly female crew of intelligent, fierce women! I also loved Enwen from Draxen's (the captain of the rival ship) crew. He was kind and curious, and held childish innocence, which was surprising for a pirate!
"She can wield a needle just as well as she can wield a sword, which is only one of the many reasons why I made her part of my crew."
So, before I end, I would like to point out that I had decided to turn the critical portion of my brain off while I read this. I had seen many mixed reviews about this one, and, after reading, I found that I could agree with a lot of them. From a critical standpoint, I may have rated this as a 3 star read. I wanted to acknowledge several key things that were dis-likable about this read (such as the "insta-love", the stereotype of the rapacious pirate, the over-arrogance of the main character, the predictabiliy, etc.), but I also wanted to state that I had put all of those criticisms aside and just enjoyed the hell out of this book! I had allowed myself to appreciate this one 100% and experienced some jolly good fun, fantastical pirates, bloody good sword fights, a kick ass pirate girl, and a sexy, fantasy pirate and steamy romance!
All quotes used are from the book, written by the author.
---
Darque Dreamer
Blogger/ Punk Rocker / Quirky Housewife
---