Happy Sunday Lovelies!
I wanted to let you all know about an exciting giveaway happening for book 3 of The No Ordinary Star Trilogy! The amazing author, M.C. Frank, is jumping for joy at the opportunity to give away signed copies of her last installment in this stunning trilogy!
If you pre-order the kindle version of No Vain Loss by M.C. Frank (Link HERE) and email her a receipt confirmation (you can leave me a comment below and I will pm you her email address) you will be automatically entered to win 1 of 5 SIGNED copies of the book!
This is what readers have to say about No Vain Loss:
Fast, Futuristic, Creative. -Yesha, Books Teacup and Reviews
My new obsession and yours too! No Ordinary Star reads like a love letter to humanity. -S. E. Anderson, author of Starstruck
This book is magic. -Alex Rowe, @captain.valour
I fell head-over-heels in love! -Drew C.
Oh, how I've already fallen in love with our two main characters, tin solider and match girl. -Rebecca Raven
Current rating on GoodReads 4.8 stars
Here are the book details.
No Vain Loss is book 3 in the No Ordinary Star Trilogy. This trilogy is beautifully immersive and highly imaginative! You can find all 3 books for an amazing price on Amazon and you will be in awe at the dreamlike quality of the story!
The Book: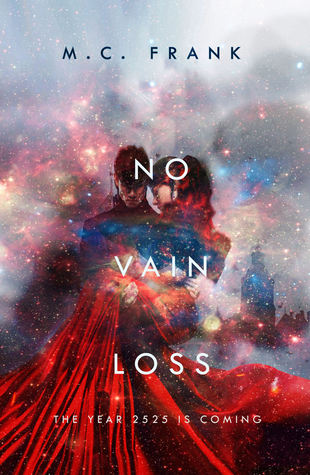 Book Title: No Vain Loss
Book Author: M.C. Frank
Page Count: 230
Publishing Date: December 5, 2017
Publisher: Self Published
Date Read: September 13th, 2017
Trilogy Synopsis:
A soldier is summoned to the North Pole, days before the year changes, told to fix the great Clock for a celebration. He has no idea what to do.
A girl, hunted for the crime of being born, almost dies out on the ice. She is rescued by the last polar bear left alive.
A library waits for them both, a library built over a span of a hundred years, forgotten in the basement of an ice shack.
The world hasn't known hunger or sickness in hundreds of years. It has also forgotten love and beauty.
This is the One World.
The year is 2524.
Inspired by the short stories of Ray Bradbury, this futuristic young adult novel in three parts is set in a world where Christmas -among other things- is obsolete and a Clock is what keeps the fragile balance of peace.
Written in three parts, this is the breathtaking story of how two unlikely people change the world, and each other, one book at a time.
Don't miss out on your opportunity to read a breathtaking story, support an amazingly talented Indie Author, and to enter an exciting giveaway!!
---
Darque Dreamer
Blogger/ Punk Rocker / Quirky Housewife
---