The Book: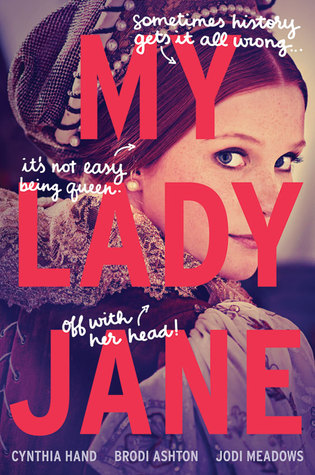 Book Title: My Lady Jane
Book Author: Brodi Ashton, Cynthia Hand, Jodi Meadows
Page Count:494
Publishing Date: June 7th, 2016
Publisher:HarperTeen
Date Read: August 30th, 2017
The Review: 
My Lady Jane is ridiculously funny and imaginative! This one is full of laughter, teenage hormones, comedy references, and wacky historical re-writing! Prepare to have a good time while reading this book!
"And yet, the niggling thought…well…niggled."
The Plot: Edward Tudor is the king of England. He is also a dying teenage boy, with only his first kiss on his mind. But his kingdom must be left to someone, so he chooses his cousin Jane. Jane is a historical book worm, more interested in reading than romance and a crown, but as a named successor, she is required to marry and fulfill Edward's wishes. She is arranged to marry Gifford (G) Dudley, but soon finds out it will be more than she expected. Gifford is a man by night, and a horse by day. With the existence of Eðians, humans that have the ability to turn in to animals, poor G is stuck not knowing how to control his ability, so every day at sunrise, he turns in to a horse. It sounds like they have enough problems as it is, but the plot thickens. The three of them are drawn in to a dangerous conspiracy that puts the kingdom and the lives of the Eðians at stake. Will they survive all that is happening and manage to keep their heads?
"But if you are a bucker of the system, a friend of the truth, an ally of love, and a believer in magic, then read on."
"Inconceivable!" I cannot believe how much I enjoyed this book!! I want to re-read it already! This one is staying close by in case of book slump emergencies! My goodness, this was a fun read! I have never found so many Monty Python and Princess Bride references in the same place before (actually, I have, during our high school play of The Princess Bride, which may be why I loved this so much)! The Lady Janies (the authors as a group) have done a fabulous job with creating this story, LOOSELY, based off of historical events and people. They even went so far as to let us know that they have taken many liberties in the creation of My Lady Jane. 
"My dear, you know those four-legged majestical beasts of the land? Well. you married one!"
So, the Lady Janies created a race called the Eðians. These people were able to transform in to animals. We also had the Verities, which were the non-transforming humans. We were to think of these two groups as the Catholics and Protestants, basically. This meant that there was unrest between the two groups. This creation of another race played an important role in the story, as Edward's father was an Eðian and Edward's sister, Mary, was a Verity. So, rather than having gone with actual historical events, in which Queen Jane lost her head after 9 days of being crowned, and Queen Mary began her blood bath, we got a comical story of the struggle for Edward to regain his throne with the help of his bookish cousin, Jane, and her horse husband, G.
"Jane stood in front of him and smoothed down the fur at the edge of his robe. 'This isn't ferret, I hope?' 'White spotted ermine,' he answered. 'Although I believe I shall give up fur, when all of this is done,. I would hate to be wearing some unfortunate Eðian by mistake.' "
The Lady Janies did an incredible job with building this historical fiction/fantasy world! In taking the liberties they did, they formed a plot that was better than history. With bits of Shakespeare thrown in, along with the afore mentioned references, and a Jaws reference, we got a highly entertaining story! And, let's not forget the hilariously fun characters!
"G wanted to sing, he was so happy. And he knew just what Edward meant about looking stupid. 'Yes, well, love looks not with the eyes, but with the mind, and therefore is winged Cupid painted blind,' he said."
I absolutely loved Jane! She was my historical spirit animal. She LOVED her books more than anything, and even threatened violence to those who would try to part them from her! She was curious, witty, cynical, sarcastic, and very intelligent! And the horse jokes, oh the horse jokes! Jane had me cracking up with her teenage hormones and her snide comments and jokes directed toward G.
"Jane would be a kind queen, for one thing. She was well educated–some would say too well educated, for a woman. She was clever. She had backbone, wouldn't let the counselors make all the decisions…"
So, Gifford, G, is a horse, of course. As the synopsis read, G was an Eðian who could not control his ability. So every morning he changed in to a horse. It made for some hilarious scenes between him and Jane after their wedding! He was a gentleman though, despite the rumors. He had some communication issues, so that made for some humorous occurrences. And he was very handsome, and had some strict rules for Jane to keep when it came to his being a horse (no horse jokes was one of them)!
"Gifford Dudley was unfairly handsome: impressively tall and well shaped around the neck and shoulder, with glossy chestnut hair tied in to a short ponytail, and expressive brown eyes. And his nose. His nose. It was perfectly shaped: not too long or short…"
And, our King, Edward was an interesting character. He began as a weak, sickly boy, worried about dying before he got his first kiss. He transforms in to a kind, chivalrous, mature boy who decides to go after what is right and what he wants most. He was totally driven by teenage hormones for most of the book though, which was quite comical, especially when he regarded a woman's bare ankle as sexy!
"His heart was pounding from more than just the exertion of the fight. This whole sparring-with-a-girl situation made him wildly uncomfortable. It wan't proper, of course. What if he were to hurt her?"
Oh, My Lady Jane, "how do I love thee, let me count the ways." I loved the humor. I loved the story. I loved the characters! If you have not read this book yet, you need to read it ASAP! Read it, then re-read it, then hold on to it for a sad day, and read it again! I cannot wait for The Lady Janies to complete the next two books!
All quotes used (except the Shakespeare quote in the last paragraph) are from the book, written by the authors.
---
Darque Dreamer
Blogger/ Punk Rocker / Quirky Housewife
---