The Book: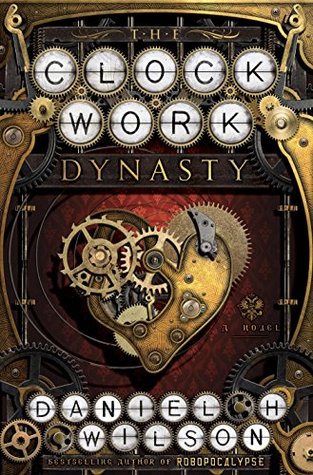 Book Title: The Clockwork Dynasty
Book Author: Daniel H. Wilson
Page Count: 352
Publishing Date: August 1st, 2017
Publisher: Doubleday
Date Read: November 27th, 2017
Synopsis: Present day: When a young anthropologist specializing in ancient technology uncovers a terrible secret concealed in the workings of a three-hundred-year-old mechanical doll, she is thrown into a hidden world that lurks just under the surface of our own. With her career and her life at stake, June Stefanov will ally with a remarkable traveler who exposes her to a reality she never imagined, as they embark on an around-the-world adventure and discover breathtaking secrets of the past…
Russia, 1725: In the depths of the Kremlin, the tsar's loyal mechanician brings to life two astonishingly humanlike mechanical beings. Peter and Elena are a brother and sister fallen out of time, possessed with uncanny power, and destined to serve great empires. Struggling to blend into pre-Victorian society, they are pulled into a legendary war that has raged for centuries.
The Review:
The Clockwork Dynasty is creative and intriguing. It is full of historical nods and futuristic technology. For those looking for something a little bit quirky and different, this one is for you.
The Clockwork Dynasty was initially a cover add for me. The synopsis further intrigued me, so when I saw it offered on NetGalley I knew I had to request it. Unfortunately, it took me a while before I was able to find the time to read it.
I'm honestly a little glad that I did not rush in to this one. It wasn't a bad read, but just didn't live up to the hype I created in my mind for it. The world building was nice. There was a superb amount of imagery and description used to create the setting for the story. The plot kind of struck me right down the middle, though.
I did enjoy the plot, for the most part. I felt like it was unique and had great potential to be astounding. It had aspects that reminded me of watching Interview With the Vampire and Terminator, and reading Miss Peregrine's Home for Peculiar Children. And, it kept my interest enough to keep reading, but there were several moments where I just felt confused, and felt awkwardness.
The characters weren't as developed as I would have liked them to be either. I didn't feel like any one character was fleshed out enough for me to become invested in. The idea behind the automaton characters was incredibly intriguing, and they had some unique qualities that made them feel both human, and inhuman, at the same time. But, the main character, June, just didn't strike me the way I would have liked, and Peter and Elena were still too unknown for me.
The writing style itself was descriptive and entertaining. The idea behind the plot was quite fascinating, and had the potential to be a superb steampunk story. I just felt like I didn't relate to this as much as I wanted to. It was worth the read for the thought provoking story line, and I would definitely read this author again. I just wish the story had a little more "oomphf." I would rate this one 2.5 to 3 stars (closer to 2.5 stars, though we know faeries would not survive being cut in half like automatons would).
Thank you to NetGalley for providing me with this free e-copy in exchange for my honest review.
---
Darque Dreamer

Blogger/ Punk Rocker / Quirky Housewife
---