Happy Sunday!
Today marks the day for Alex at Coffee Loving Bookaholic and Kathy at Books & Munches, and I, to start our read along of book 3 in the Throne of Glass Series! Alex and I read book 1 together and absolutely loved it. Kathy joined us for book 2, and decided to stick around, since we enjoyed having her join so much!! We will be discussing the first half of the book in 1 week, and will be discussing the rest in 2 weeks. So keep an eye out for our posts on the 10th and 17th! Alex and I will be making these posts, and Kathy will be joining in on the comments, so if you have read the book and want to join in, please do!

The Book: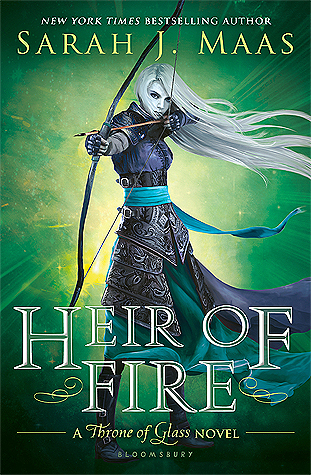 Book Title: Heir of Fire (Throne of Glass #3)
Book Author: Sarah J. Maas
Page Count: 565
Publishing Date: September 2nd, 2014
Publisher: Bloomsbury USA Childrens
Synopsis: Celaena has survived deadly contests and shattering heartbreak―but at an unspeakable cost. Now, she must travel to a new land to confront her darkest truth . . . a truth about her heritage that could change her life―and her future―forever. Meanwhile, brutal and monstrous forces are gathering on the horizon, intent on enslaving her world. Will Celaena find the strength to not only fight her inner demons, but to take on the evil that is about to be unleashed?
Expectations:
I feel like after the first two books, Maas is trying to tell us to expect the unexpected, but not to be surprised when something is predictable in a surprising way. I am expecting all new characters in this one. Not that I want them, haha, but with the journey Celaena is making, I expect to meet some new people. I am hoping we will learn more about the magic in the story and the symbols too.
Me (Adrienne):

Do you expect more action and bloodshed in Heir of Fire?
Alex: I am not really sure. Since i expect a completely different setting, I think it will take some time to introduce that one. I don't know if there is much space left for more action. But I guess that at the end of the book there will definitely be more action.
Me (Adrienne): I am honestly not expecting much action or bloodshed in this one. I may be completely wrong, and would be pleasantly surprised to find it, but I think this will be a learning journey where Celaena finds out answers to most of her questions.
Me(Adrienne):

How many new characters are you expecting?
Alex: I hope not too many, since I already love the existing ones. But I am guessing at least two new characters as in point of views.
Me (Adrienne): I would say we will meet at least 2-5 new characters, possibly more if Celaena meets a clan of people. My guess would be about 2-3 new main characters though.
Me(Adrienne):

Do you think this one will still have the same feel as the last books with a new story and new characters?
Alex: That's a point which scares me a lot. I loved the old setting and I am scared that I won't like the new setting because of Chaol and Dorian missing. I hope Sarah J. Maas went into a good direction with this one and I trust her but I have a feeling, that it will feel differently than the first two books. I hope it's as good as the other books but it will definitely be different and I am not sure if I am ready for that.
Me (Adrienne): I think this one will have a different feel altogether without the love triangle and with Celaena on a self discovery journey. I don't think it will be a bad feel though. I think we are going to love this one (I hope), and find that it fits nicely in the story but feels different in a good way.
---
Darque Dreamer
Blogger/ Punk Rocker / Quirky Housewife
---