Happy Sunday Lovelies!
I hope you all have had a fabulous weekend! This past week Alex at Coffee Loving Bookaholic, Kathy at Books & Munches, and I have been reading book 3 in the Throne of Glass series. As with the last two books, Alex and I asked each other a set of questions to answer, and Kathy will be answering each set in our comments. Feel free to join in if you have read the book. If you haven't, there will be spoilers ahead, so beware!
The Book: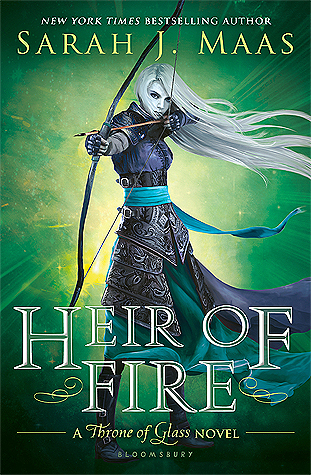 Book Title: Heir of Fire (Throne of Glass #3)
Book Author: Sarah J. Maas
Page Count: 565
Publishing Date: September 2nd, 2014
Publisher: Bloomsbury USA Childrens
Synopsis: Celaena has survived deadly contests and shattering heartbreak―but at an unspeakable cost. Now, she must travel to a new land to confront her darkest truth . . . a truth about her heritage that could change her life―and her future―forever. Meanwhile, brutal and monstrous forces are gathering on the horizon, intent on enslaving her world. Will Celaena find the strength to not only fight her inner demons, but to take on the evil that is about to be unleashed?


My Thoughts So Far:
Alex and I were talking about how we both just feel like this book isn't' touching us like the first 2. It has a different feel to it so far. It was something we both were afraid of when we talked about what we expected from the book. I am not liking the development between Dorian and Sorscha and I feel like it is awkward between Celaena and Rowan. I am interested in learning more about the witches, but still feel kind of off about them as well. The world building for Wendlyn just isn't as expansive as it was in the first two books, and the character development for Rowan and Aedion isn't as fleshed out as it was for Celaena, Dorian, and Chaol in book 1. I am hoping part 2 blows me away because the only thing really keeping me going right now is Celaena, and Manion and Abraxos.
Q & A With Alex:
Me: How do you feel about the book so far? 
Alex: Honestly, I am not the biggest fan right now. It feels very different to the other books, maybe because of all the different settings. I also had the feeling that nothing really interesting happened until the end of part one.
Me: I just feel like it is off. It doesn't have the same enchantment as books 1 and 2.
Me: Are you glad we still have Chaol and Dorian to read about, or do you feel a difference in the story with all that's happened between them? 
Alex: I am really happy that we still have Dorian and Chaol. I was worried that we didn't get their pov's at all. I knew they wouldn't get along that well, but I am just happy they are still in the book!
Me: I was glad at first to still have Chaol and Dorian, but it feels a little forced. Chaol not so much, because he is doing what I think fits his character, but Dorian is starting to annoy me with suddenly forgetting Celaena and going after a servant…
Me: What do you think about the addition of the witch army and the wyverns? 
Alex:  I am not a fan, at least not so far because I have no idea where this is going. It feels totally out of place somehow and I don't find myself enjoying these chapters.
Me: I like the addition because it is interesting, but at the same time, I find it kind of out of place and have no clue how they are supposed to figure out who killed Baba Yellowlegs.
Me: Did you expect Dorian to find out about Celaena so soon? 
Alex: No, I did not but I love it. That's definitely a thing that I liked about part one. Also I was done so well, because I did not expect it at all!
Me: I did not expect him to find out so soon. That felt kind of forced as far as the story line goes.
Me: How do you feel about the world building as far as Wendlyn goes? 
Alex: I don't really have an opinion on this, because it's too soon for me to tell. I liked the old setting better though.
Me: I don't think Maas put as much effort in to the world building for Wendlyn as she could have. 
Me: What do you think about Abraxos and Manion? 
Alex: I liked the ending of that story so far, I even felt some emotions when she got him to fly. Maybe because I love animals and that was a huge relief. But since I don't know where this is going, it's hard for me to fall for them. 
Me: I like the relationship between the two and Abraxos really has me intrigued. I think it is because I already bonded with him over a candle I bought that was made to represent him, lol.
Me: Do you feel like the new characters are developed well?
Alex: I really enjoy Rowan so far because he made a good development in part one. Still undecided about Aedion. I don't know if he's good or bad yet. Manon I don't care so much about and Sorscha is nice. I like that Dorian found someone, because that means Celaena and Chaol, haha. But the minute I read that Sorscha likes Dorian, I got a bad feeling. I knew something between them would happen, but back in my head I also thought that something will happen to her…
Me: I do not feel like the new characters are nearly as developed as they should be. I want more. I think I would like them more if they were as fleshed out as Celaena.
Check out Alex's blog post for her questions and my answers!
---
Darque Dreamer
        Blogger/ Punk Rocker / Quirky Housewife
---