Happy Sunday lovelies!
I hope you all had a lovely weekend! You all know how passionate I am about book inspired artwork! I am happy to share a beautiful piece of artwork created for book 3 of my favorite trilogy.
Isn't this stunning? This beautiful piece perfectly portrays the stunning story characters and just shines with the feel of the books! What do you think? Have you read the No Ordinary Star trilogy yet?
The Book:
"No Vain Loss is rich, symbolic, and deeply thought provoking! This one will definitely make you re-evaluate your thoughts on humanity and what it means to be "human".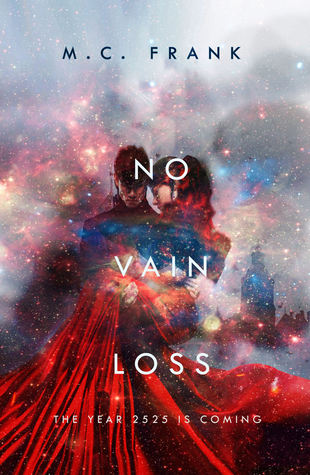 Book Title: No Vain Loss
Book Author: M.C. Frank
Page Count: 230
Kindle Publishing Date: December 5, 2017
Publisher:Self Published
Date Read: September 13th, 2017
My Review: Here
Synopsis:
A soldier is summoned to the North Pole, days before the year changes, told to fix the great Clock for a celebration. He has no idea what to do.
A girl, hunted for the crime of being born, almost dies out on the ice. She is rescued by the last polar bear left alive.
A library waits for them both, a library built over a span of a hundred years, forgotten in the basement of an ice shack.
The world hasn't known hunger or sickness in hundreds of years. It has also forgotten love and beauty.
This is the One World.
The year is 2524.
Inspired by the short stories of Ray Bradbury, this futuristic young adult novel in three parts is set in a world where Christmas -among other things- is obsolete and a Clock is what keeps the fragile balance of peace.
Written in three parts, this is the breathtaking story of how two unlikely people change the world, and each other, one book at a time.
---
Darque Dreamer
Blogger/ Punk Rocker / Quirky Housewife
---