The Book: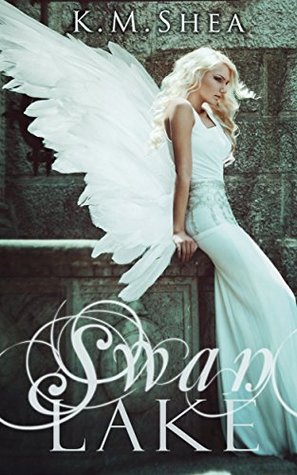 Book Title: Swan Lake
Book Author: K.M. Shea
Page Count: 203
Publishing Date: June 16th, 2016
Publisher: Self Published
Date Read: January 15th, 2018
Synopsis:  Will she choose to save her country or free herself?
Cursed to be a swan by day, Odette spends her nights leading a band of smugglers and delivering illegal goods. Though she longs for her spell to be broken, she is stuck flattering the evil sorcerer who cursed her.
When the kind and witty Prince Alexsei tracks Odette and her crew to their camp, Odette fears he is yet another complication she must manage. Instead, Alexsei slowly endears himself to her and searches for a way to break her curse–but with every visit he risks alerting the sorcerer to his presence.
When the sorcerer launches an attack against the royal family, Odette is pulled between her love for Alexsei and her loyalties to her crew. Will she choose to fight with Alexsei, or fulfill her responsibilities as a leader and smuggler?
K.M Shea Talks About Swan Lake The Ballet:
Okay, on to the summary. Swan Lake is a bit of a new venture for me because it is not, in fact, a fairy tale, but a ballet. Even so, I knew from when I first thought up of the series that I wanted to include Odette from Swan Lake. This is probably because I grew up with the cartoon movie "the Swan Princess" and Odette was one of my all-time favorite princesses. But long before that movie existed, there was the ballet.
Swan Lake was composed by Pyotr Ilyich Tchaikovsky in 1875-76–making it the most modern story I've adapted. Though many now consider Swan Lake a classic/well-known ballet, when it first debuted it was a pretty big failure. (Based on what I've read, it was mostly due to the dancers who played the main roles) It wasn't until it was "revived" in 1895 that it begin to enjoy some popularity. (As a Tchaikovsky fan, I think it's important to note that Tchaikovsky's original score was changed for that revival, and this very same revival is the one that is now usually seen on stage.)
Now because it's a ballet, there are no speaking roles in Swan Lake, which meant I got to be really free handed with how I interpreted some of the stuff. The basic gist of the story, though, is as follows.
Prince Siegfried is partying hard with his childhood friend, Benno, when his mother waltzes in and tells him he needs to get married. The Playboy prince is super bummed, and decides to go hunting when he sees the flock of swans flying overhead. Prince Siegfried and his hunting party follows swans all the way to the lake. There the prince get separated from his friends, but finds the swans. Just as he begins to take aim at them with his bow, they transform into beautiful maidens.
Siegfried meets the most beautiful of all the swan maidens, Odette, the Swan Queen. She explains to him that she and her friends are victims of a curse cast on them by the evil sorcerer Von Rothbart. By day, they must be swans, and at night they can turn into humans again if they are by the lake. Of course, the spell can be broken (one of the many reasons why Swan Lake fits in so perfectly with the rest of my fairytales) but only if one who has never fallen in love before swears to love Odette forever.
Von Rothbart comes around to break up the party and gets in a fight with Siegfried, but eventually he leaves. Siegfried and Odette spend time together, and fall in love. (Because that wasn't predictable.)
Prince Siegfried's mother throws a party, intending that Siegfried will choose his future bride at it. Siegfried is totes not interested because he's in love with Odette, but he sits up and takes notice when von Rothbart arrives in disguise with his daughter, Odile, transformed to look exactly like Odette. Because Siegfried has known Odette for exactly one day (no joke, it seriously happens in one day, as fairytales have to take place in a 24-hour window or it's not dramatic enough) he mistakes Odile for Odette, and dances with her. Although Odette appears to him in a vision (yeah, I don't get that part either) Siegfried announces to his courts that he is in love with Odile and intends to make her his wife. Von Rothbart reveals his trick, and Siegfried, horrified with his actions, rushes back to the lake.
Odette is heartbroken by Siegfried's betrayal, and resigns herself to death for all of two seconds until Siegfried shows up and reaffirms his love for her. Von Rothbart drops by (I gotta say I'm weirdly fond of him, he is the only fairy tale character I know of who has impeccable timing) and demands that Siegfried honor his vow and marry Odile. Siegfried refuses and declares that he would rather die with Odette, so naturally the happy couple decide to jump into the lake? This manages to break von Rothbart spell, so all the other swan maidens are free of the curse. The broken curse affects von Rothbart's power, and he is killed as a result, and the swan maidens watch as Siegfried's and Odette's spirits ascended to heaven together.
Not gonna lie, the ending reminds me a lot of the ending from the original version of the Little mermaid. Now, while I do mock the original story, you have to remember that I do this only because I love it just as I love all the other fairy tales I have taken apart and criticized. In preparation for writing the book, I watched quite a few clips of the ballet. I actually watched clips from around the world; New York, London, Moscow; Swan Lake is popular, and after seeing it I can definitely see why. (Just sayin', I think Tchaikovsky did an awesome job at the music!)
Now, I think it's important to add that while there is no original fairy tale for Swan Lake, there is a German fairy tale (the stolen veil) and a Russian folktale (the white duck) that supposedly were source material for Tchaikovsky's ballet. In doing research for my version of Swan Lake, I looked up both of those fairy tales, and it is true that pieces of them bear structural resemblances to Swan Lake, but it's my opinion that neither of them are nearly as dramatic as the ballet.
The Review:
Swan Lake is elegant and exciting. This one has beauty, intrigue, and adventure! Faerie tale lovers rejoice, for this one is a magical read!
Evil sorcerers, hell-hounds, and wyverns, oh my! This installment in the Timeless Fairy Tales series was definitely exciting and unique! It offered all of K.M. Shea's writing style charm, strong character building, and full realized fantasy world allure.
I loved the way this one flowed. I loved the excitement of the story and the intrigue of Odette being the leader of a group of smugglers. I also really enjoyed the personality and character twist of Rothbart and his evil sorcery experiments!
As always, the faerie tale world that Shea has created was alluring and captivating. It was so well developed and came to life in the story. Everything was vivid and vivacious! Since book one in this series, I have felt like I have been living in a beautiful dream world.
The characters were so well done, as always. Odette stood out to me because of her fierce loyalty to her group of Swan Smugglers. Alexsei was a strong, noble man that knew he had met his match as Odette was stealing his heart. Odile was moral and caring, and stunned me with her amazing ability, and Alexsei's mother, the empress, wowed me with her humor and intelligence. Odette's band of thieves matched her, well with their individual talents, and followed her with pride.
All my reviews have been gushing, but I have not been able to help myself. Swan Lake was exhilarating and beautiful. It was emotional, humorous, and magical. It had amazing characters, dangerous creatures, an interesting villain, and the expected cameo of a favorite Enchantress In Training. It was a love story, not just between Odette and Alexsei, but a love story among friends. It was powerful and entertaining, and definitely a must read!
Thank you to the author for sending me this free e-copy in exchange for my honest review, and as part of my Faerie Tale Friday posts.
Swan Lake:
The story of Swan Lake is woven around two girls, Odette and Odile, who resemble each other so closely they can easily be mistaken for the other. Originally their roles were entrusted to two separate dancers, but as there is only one brief fleeting moment when they are seen simultaneously, it has long been customary for a single prima ballerina to perform both parts, differentiating them by characterisation and general style. The action takes place in Germany in the distant past.
Act I
After a glittering musical introduction, the first scene is set in a splendid park, with a fairy-tale castle in the background. Prince Seigfried and his friends are seated, drinking, and peasants enter to congratulate him on his coming of age; meanwhile, his tutor Wolfgang encourages them to dance for the young Prince's entertainment.
A messanger presages the arrival of the young Prince's Mother. She follows to pronounce that her son should now marry, choosing a bride from the young women to be presented to him at a ball the following evening. She leaves and the rustic dancing resumes until darkness suddenly falls and a flock of swans appear. The Prince has an idea of shooting one of the noble birds and, armed with a crossbow, sets off with his friends and heads to where the swans are heading.
Act II
By the banks of a lake by moonlight, a flight of swans glide past, led by their own Queen. The Prince's friends are eager for the chase, but he begs them to leave him, and whilst he is alone the Swan Queen comes to him in the human form of Odette and tells her story.
She is under the spell of an evil magician, Von Rothbart, and reveals that by day she and her friends are turned into swans. Also persecuted by her stepmother, that subjection will only end when she marries; until then she has only her crown to protect her.
The whole swan group arrives and they reproach the Prince for attempting to deprive them of their beloved leader. Odette intercedes and the Prince discards his crossbow. He and Odette dance, professing their love. The entire flock joins in; and the act ends as an owl (the wicked stepmother) flaps heavily above.
Act III
It is the following evening and in a luxurious hall in the Prince's castle preparations are underway for the feast. Wolfgang orders the servants around; guests start to materialise; and finally, the Princess-Mother and her entourage. A sequence of turns commences until the Princess asks her son which of the women he favours. 'None', he replies to her annoyance.
At a sudden fanfare Baron Rothbart enters with his daughter Odile, whose resemblance to Odette strikes the Prince. Odile herself dances enticingly, followed by an elaborate sequence of national dances by the company. The Princess-Mother is pleased to see that Odile has caught her son's favour. The young couple themselves conjoin together and the Princess-Mother and Rothbart advance to centre-stage to announce a betrothal.
With that, the scene ominously darkens, an agitated version of the principal swan theme is heard; a window flies open noisily and through it can be seen a white swan replete with crown. Horrified, the Prince pushes Odile away and rushes out amid general confusion.
Act IV
The girls, including Odette, gather around the lake. Odette is heartbroken. Prince Siegfried finds them consoling each other. He explains to Odette the trickery of Von Rothbart and she grants him her forgiveness. It isn't long before Von Rothbart appears and tells the prince that he must honour his word and marry his daughter or both he and Odette will die. Prince Siegfried refuses. A fight follows, Odette and Siegfried die in each other's arms. Von Rothbart's evil spell is broken by the power of Odette and Siegfried's love for each other and Von Rothbart is destroyed by the swans, who are released from their enslavement.
Art:
All found on Pinterest.
New Release Announcement:
Today is the official release of K.M. Shea's newest installment in the Timeless Fairy Tales collection!
12 Dancing Princesses is now out in the world! ❤
I know a lot of you are familiar with this tale, so I think it would be great to have some of you read this and share your thoughts! I will be making my way to it shortly!
Faerie:
Miss Fluff / Shop / Society6
---
Darque Dreamer
Blogger/ Punk Rocker / Quirky Housewife
---