Hello my fellow book addicts!
How many of you enjoy reading books from Indie, Self Published, and lesser known authors? How many of you enjoy reading new, up and coming authors? If you raised your hand to either question, then I have just the site for you!
I had mentioned Swoon Reads a while back when I made a post about how important it is to read and review books from authors from any of the categories above. I had talked about how important it is to give these authors a chance. Just because someone has not been published with any of the big name publishers doesn't mean they aren't talented and hard working.
So, what is Swoon Reads?
Swoon Reads is a website where unpublished authors can submit their manuscripts for reading and honest reviews. Readers can sign up on Swoon to have access to hundreds of these unpublished manuscripts. When a reader finds a manuscript that piques their interest, they can add it to their bookshelf to read. An app can be downloaded, or you can read directly on your computer. About 2-5 chapters in Swoon will ask for your first comment on the book. It is said that editors can usually get a feel for the book about 3 chapters in.
After this initial comment, Swoon will allow you to read the rest of the manuscript un-prompted, but you are able to leave comments on the manuscript throughout the book if you choose to. Once you reach the final page, Swoon will prompt you for your review (1-5 hearts), and will ask you to leave a comment about what you liked and didn't like. It also asks what book you would compare it to.
What is the reason for the ratings and comments?
The people that run Swoon Reads pay attention to which manuscripts are getting the most love. They look at ratings and comments. There are specified submit dates throughout the year where authors can submit their manuscripts before a deadline. If a manuscript has gotten high ratings and praising comments from enough people, it has a chance to be chosen for publication by Swoon Reads (Feiwel & Friends, Macmillan imprint). This means that YOU, the reader, have high sway in the reading community!
What popular books started their journey on Swoon?
That's right! These hype worthy books all made their way to the top by starting on Swoon Reads. They were readers' choice! This means that we, as readers, can do this for other deserving authors!
What I read on Swoon:
Book Title: Submerged
Book Author: Melanie Noell Bernard
Page Count: 323
Date Read: March 9th, 2018
Genre: Sci-Fi, Dystopic, Friendship
Synopsis: Nineteen-year-old Freja assumed being claustrophobic while living in a compact, fully-enclosed, underwater home was the worst that could happen to her. That is, until someone sabotages the food supply, murders her fellow citizens, and sends her anonymous messages suggesting more is to come.
I highly recommend reading this one!
My Thoughts:
Submerged was highly engaging and exciting! It had a very nice story flow and some great, unexpected twists. I really enjoyed the development of the cloister world along with all the job classifications created for the citizens. I became invested in the characters and enjoyed Freja's inner dialog. Melanie did a fantastic job with putting me in the moment of Freja's claustrophobia attacks and making my heart race along with hers.
She created some amazingly dynamic characters. Each one had depth and dimension. They were captivating and relatable. There was feistiness, loyalty, betrayal, indifference, pity, and friendship to be found amongst the different characters.
I enjoyed the fact that I learned a new word as well. Bairn was a word used often to talk about a child. Though it threw me off a few times in the story with its old-world feel, but it also helped me learn a little about the people in the cloister. It was fun to look it up and learn its origins and think about how it fit with the characters.
There were only a few minor things that I could pinpoint that needed a little work, in my opinion. The main thing was how often the characters addressed each other by name, but the author has stated she is already working on that. Another was that the dictionary felt like it deserved a front-page spot, but, again, the author will be addressing that as well. And the last two things were that the job title of enforcement task force felt like a mouthful, and that I wanted to know more about the different types of technology in the cloister like why one piece of highly advanced technology existed when a more simpler one did not.
Overall the story was fantastic. The world building was exceptional. I could visualize the cloister and the story as I read. I could feel how closed in Freja felt. I felt happiness, anger and shock. I laughed at times, and was rooting for Freja the entire time! I stayed up until 2 am to finish reading because it was so good! It had a little predictability to it, but also had many unpredictable twists that kept me turning page after page!
I gave it 4.5-5 hearts on Swoon Reads, but it would get 5 faeries on my blog if I had done a formal review.
About the Author: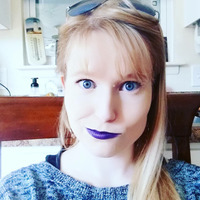 Melanie Noell Bernard hails from the cloudiest state in the Midwest. Surrounded by endless fog and bitter winter nights, it was only a matter of time before she fell in love with the dark. Combine that with a knack for the gritty, the disturbing, and the creepy, you have the beginnings of a young horror writer. Good thing her heart enjoys answering the call of the dark side.
Blog / Facebook / Good Reads / Swoon / Twitter
Melanie is a fellow book blogger. So, as part of our wonderful community, I think it would be really great to support her! It would be amazing to have many of you sign up for a free Swoon Reads account and give Submerged a read and honest rating and comments. You can do so by clicking the word Submerged below:
---
Darque Dreamer
        Blogger/ Punk Rocker / Quirky Housewife
---