The Book: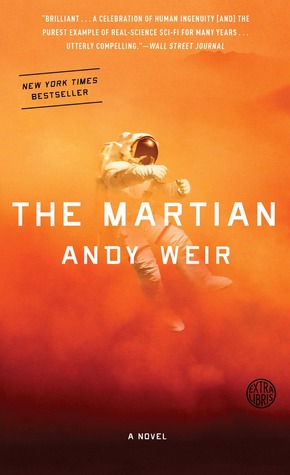 Book Title: The Martian
Book Author: Andy Weir
Page Count: 387
Publishing Date: October 28th, 2014
Publisher: Broadway Books
Date Read: March 13th, 2018
Synopsis: Six days ago, astronaut Mark Watney became one of the first people to walk on Mars.
Now, he's sure he'll be the first person to die there.
After a dust storm forces his crew to evacuate the planet while thinking him dead, Mark finds himself stranded on Mars's surface, with no way to signal Earth that he's alive. And even if he could get word out, his supplies would be gone years before a rescue could arrive.
Chances are, though, Mark won't have time to starve to death. The damaged machinery, unforgiving environment or plain-old "human error" are much more likely to kill him first.
Armed with nothing but his ingenuity, his engineering skills–and a gallows sense of humor that proves to be his greatest source of strength–Mark embarks on a dogged quest to stay alive. But will his resourcefulness be enough to overcome the impossible odds against him?
The Review:
The Martian is out of this world! Riveting and captivating, this one is sure to blow you away! It is perfect for those who love a slow burn of a novel with a high amount of realism and humor!
This one was so good! I actually took my time reading it so I could savor it. In the past I had found that after letting a book sit for a few days I had to look back at what I had previously read to refresh my memory. I did not find that I needed to do that with this one. The story was so memorable, that every time I picked it back up, I remembered everything from my last reading session, and was able to just sit and enjoy it!
Andy Weir created a stunning story about hope and struggle. Mark Watney, "space pirate," was such a dynamic, strong character! He was brave, vulnerable, and full of ingenuity! He was highly intelligent, and full of humor and sarcasm!
If you've seen the movie already (like me), you'll have a good idea of how the plot goes, but the book went in to so much more detail than the movie did. It broke down all the science. It delved deeper in to the emotional aspect of being the sole inhabitant of Mars. It offered more humor and "Macguyvering," and it held more realism!
The book started a tad slow for me, but it quickly picked up and had me fully invested in Watney, and the NASA crew's life saving efforts. Watney was the star! I mean, obviously, being the only person on the planet, he was kind of it for most of the book. But, not only did we get a play by play of life on Mars from Watney's journal entries, we also got a third person view every so often when Watney did something that caused his almost death, and we got the points of view of the Hermes crew, and NASA.
I just loved every aspect of the story! The science was detailed enough to get my mind working, but simple enough to not deter me. The humor and sarcasm was through the roof, and was, by far, the best aspect of the story! Watney's personality and intelligence shined throughout the entire book, and the courage of the crew of the Hermes was heart warming! The Martian was just so damn entertaining! 4.5 stars (or 5 faeries because Watney is probably the only person genius enough to put two halves of a faerie back together, and he has done enough already.)

Movie Comparison:
Spoilers ahead!
Now comes the fun part! Let's talk about how the book compared to the movie. Inevitably, as readers, even if we say we aren't going to compare book and movie, or say that we won't let the differences affect us, they will. We watch the movies because we want to see the books we love come to life in front of our eyes. So, when Hollywood screws it up for ratings, or to entertain non-readers more than readers, we feel disappointment, and sometimes anger. I am happy to say that this is not the case with this one.
Yes, there were several major differences and changes between book and movie. The changes I can think of at the moment involved the ending, a second unexpected dust storm, a few name changes, and the amount of space Watney actually used for his potato farm. And, honestly, these changes didn't really seem like that big of a deal.
The main thing that ran through my mind after I finished the book (because I watched the movie first ;-P) was that the movie did a stunning job with capturing the feel of the book. Most of the notable quotes from Watney were kept. His personality, sarcasm, and ingenuity shined on screen, and Matt Damon made an amazing Mark Watney! The plot was extremely close to the book, and all the major twists and turns seemed to be present.
So, if the book and the movie were so close, can you enjoy both? YES! Even though the movie was as close as I feel it could be, both the book and the movie still offered something unique. I would recommend both, hands down!
What did you think? Was the movie a positive experience for you in relation to the book?
---
Darque Dreamer
Blogger/ Punk Rocker / Quirky Housewife
---