Happy Monday lovelies!
Today I decided to take my 3rd trip down the TBR Hole. This really needs to be done on a regular basis, lol.. 😀 Don't forget to go check out Lost in a Story's blog because this is where the idea originated from, and Lia has a lovely blog!
Here is how this TBR cleaning works:
Go to your goodreads to-read shelf.
Order on ascending date added.
Take the first 5 (or 10 if you're feeling adventurous) books
Read the synopses of the books
Decide: keep it or should it go?
P.S. I ordered my books from average rating because the first fourteen books in ascending order were all keepers, and that just wouldn't have been as much fun!
Down the Hole We Go!
Book Title: The Town of Jasper
Added to TBR: May 1, 2017
Synopsis: Deadly foes and unexpected allies. A thrilling race against the clock.
Jack Sutherland, a disgraced detective battling his own addictions, must trudge through the quarantined town of Jasper. After "The Incident" leaving half of Jasper's population unconscious, Richard Morrisey rose to power. Morrisey, a grieving man desperate for justice, keeps the town afloat by forging a tentative alliance with the mysterious and violent Filmore Whites. Meanwhile, a deadlier enemy lurks, known only as The Redeemers. This cult has its own dark ideas for Jasper's salvation.
Together, Sutherland and Morrisey battle impossible odds to save what little is left of Jasper.
Keep or Delete: Delete. I just don't feel the interest anymore.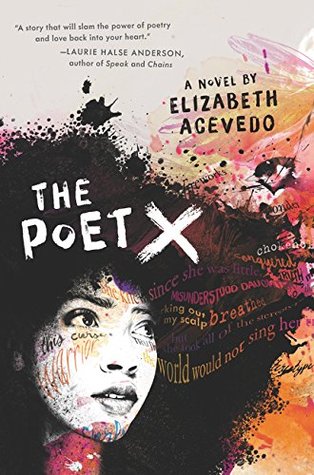 Book Title: The Poet X
Added to TBR: March 13, 2018
Synopsis: A young girl in Harlem discovers slam poetry as a way to understand her mother's religion and her own relationship to the world. Debut novel of renowned slam poet Elizabeth Acevedo.
Xiomara Batista feels unheard and unable to hide in her Harlem neighborhood. Ever since her body grew into curves, she has learned to let her fists and her fierceness do the talking.
But Xiomara has plenty she wants to say, and she pours all her frustration and passion onto the pages of a leather notebook, reciting the words to herself like prayers—especially after she catches feelings for a boy in her bio class named Aman, who her family can never know about. With Mami's determination to force her daughter to obey the laws of the church, Xiomara understands that her thoughts are best kept to herself.
So when she is invited to join her school's slam poetry club, she doesn't know how she could ever attend without her mami finding out, much less speak her words out loud. But still, she can't stop thinking about performing her poems.
Because in the face of a world that may not want to hear her, Xiomara refuses to be silent.
Keep or Delete: KEEP!! I really think this one will be powerful!
Book Title: All the Fun of the Fair
Added to TBR: March 14, 2018
Synopsis: It's the 1950s and Grundy's Travelling Fair arrives in town with a bang.
When night falls, the local town is drawn to the Fair. But when the fairgoers head home, the Grundys are left behind. Hours are long and the work back-breaking. But family and friends hold things together.
Gemma married into the lifestyle, her reliable husband Solomonmaking the work worthwhile. Solly's Dad Samson is still the boss, but his other son, known as Sonny, is getting a reputation…
Times are changing. Can the family – and the fair – survive?
Keep or delete: Keep. I just recently added this because of the 1950's time period!
Book Title: The Tethering
Added to TBR: April 30, 2017
Synopsis: Tiger has lost almost everything. Her village. Her community. Her father. But her brother Tarren, who has been kidnapped by the deadheads that razed her village, still lives. With only the loyal but enigmatic old man Sai to guide her into the nightmare-jungle that was once North America, Tiger must face her greatest fears in a race to save her brother before he is lobotomized, even while the world around her is bled dry by Those That Watch. The Watchers are in the end-stages of stripping the planet of its mineral resources-but as Tiger travels deeper into the lush inner-band, she learns that a far more dangerous biological resource is being cultivated on her dying world for a war that defies human comprehension. The race to save her brother's life takes on a new dimension as she uncovers the truth about her family, the sly old man she travels with and the uncanny beings she meets on her journey. Tiger must question the invisible threads that bind her to her world, her brother, and her hidden past-but she will also discover that she is tied to a frightening and perhaps inevitable future and that she may not control her destiny. She will come to know The Tethering.
Keep or Delete: Delete. Lost the interest.
Book Title: 1888: The Ripper File
Added to TBR: October 12, 2017
Synopsis: "Welcome to Jack the Ripper 101. My name is Dr. Teagan Faelynn. I know the true identity of history's most notorious serial killer – because he came for me." The discovery of a new Ripper journal sends Teagan on a journey to London… or so she thinks. But she finds herself plunged into a hidden world of witches, fairies, dragons and Valkyries – and that's just her friends. How can Teagan hunt the Ripper and bring him to justice? In the modern world, or in a secret Victorian England where nothing is as it seems? Join the Paranormal Institute for Research and Rescue. And travel back in time to solve a centuries-old mystery – if you survive…
Keep or Delete: Keep. Sounds like a fantasy version of Stalking Jack the Ripper!
TBR Status:
Books Deleted: 2
TBR Count: 452
I swear this number never goes down very much! Tag me if you decide to do this!
---
Darque Dreamer
Blogger/ Punk Rocker / Quirky Housewife
---