The Book: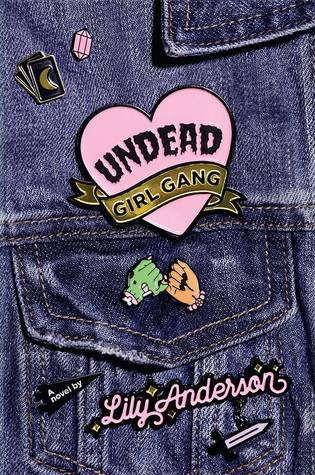 Book Title: Undead Girl Gang
Book Author: Lily Anderson
Page Count: 272
Publishing Date: May 8th, 2018
Publisher: Razorbill
Date Read: April 20th, 2018
Synopsis: Veronica Mars meets The Craft when a teen girl investigates the suspicious deaths of three classmates and accidentally ends up bringing them back to life to form a hilariously unlikely–and unwilling–vigilante girl gang.

Meet teenage Wiccan Mila Flores, who truly could not care less what you think about her Doc Martens, her attitude, or her weight because she knows that, no matter what, her BFF Riley is right by her side.
So when Riley and Fairmont Academy mean girls June Phelan-Park and Dayton Nesseth die under suspicious circumstances, Mila refuses to believe everyone's explanation that her BFF was involved in a suicide pact. Instead, armed with a tube of lip gloss and an ancient grimoire, Mila does the unthinkable to uncover the truth: she brings the girls back to life.
Unfortunately, Riley, June, and Dayton have no recollection of their murders. But they do have unfinished business to attend to. Now, with only seven days until the spell wears off and the girls return to their graves, Mila must wrangle the distracted group of undead teens and work fast to discover their murderer…before the killer strikes again.
The Review:
Undead Girl Gang is snark meets teen angst, splashed with humor, emotion, and necromancy. Full of revenge, friendship, and witchcraft, this one is sure to bewitch you. For fans of movies like The Craft, Mean Girls, Hocus Pocus, and Practical Magic, you are sure to love this book!
I know, I know, you're probably thinking, "why would you compare this book to so many different movies?" I did this because I felt like the author drew inspiration from them all. I was even reminded of a hilarious movie called Death Becomes Her, and, since I loved all the above mentioned movies, I couldn't help but love this book even more.
Comparisons aside, this book was so fun! I would have loved it even if I hadn't picked out the comparisons. Was it perfect? No, but the pros heavily outweighed the few cons I found, and I enjoyed the hell out of it.
I loved the plot line with the heavyset, anti-social Hispanic girl (totally me in high school) fighting to find out the truth about her best friend. I loved the twist the story took with the "mean girls" of the school. I loved the bits of Hispanic culture thrown in (which I never felt like I needed until now), along with the pagan and Wiccan aspects (studied off and on in middle and high school), and I loved the overall feel and attitude of the book.
The story definitely had some predictable twists. I was not surprised by who the murderer was, and though I loved the "mean girl" twist I mentioned above, I was not surprised by it either. I was a little surprised to the "why," of the murderer, and was definitely surprised by a few other story twists. But, despite some of the predictability, it was just a damn good story that bewitched me enough to finish the book in one sitting.
The story showcased the importance of friendship. It spoke about not judging someone for their race, beliefs, appearances, friend choices, etc. It had power and conviction nestled in to an incredibly humorous story about a young, inexperienced witch playing with dark magic for the love of her bff.
I really loved the depth of the characters too. Mila was my favorite, of course, because she was strong, yet vulnerable, forgiving, loyal, and she was one kick ass witch! I loved Riley's character with her strong voice (even while she was dead, dead) and how she contrasted Mila, even though they were best friends and could have been sisters. And, I loved how June and Dayton were more than just "the mean girls," and were given interesting personalities with their own likes, faults, and vulnerabilities, along with Dayton's shenanigans of course.
This book was just so good! I'm ready to re-read it again. It was witty and fun and insanely hilarious! The writing was so vivid, and everything really came to life for me.  My high school self would have been head over heels for this one, because my adult self is feeling like a teenager again! If you love strong friendships, witches, girl power, necromancy, humor, and murder mysteries, and can handle mild crassness and foul language, I would highly recommend this one!
Thank you to the publisher for sending me this free ARC in exchange for my honest review!
About the Author:

LILY ANDERSON is a school librarian and Melvil Dewey fangirl with an ever-growing collection of musical theater tattoos and Harry Potter ephemera. She lives in Northern California. She tweets @ms_lilyanderson.
Facebook / Good Reads /  Twitter  / Website
Other books by Lily:
Tour Schedule:
---
Darque Dreamer
Blogger/ Punk Rocker / Quirky Housewife
---