The Book: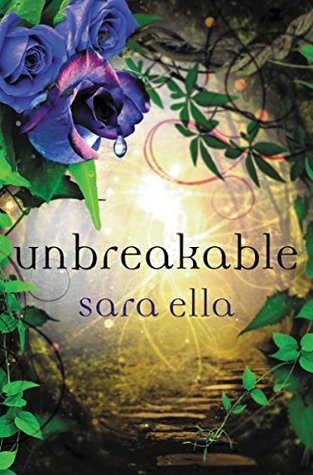 Book Title: Unbreakable
Book Author: Sara Ella
Page Count: 320
Publishing Date: May 1st, 2018
Publisher: Thomas Nelson
Date Read: April 25th, 2018
Synopsis: Eliyana Ember is stranded in a foreign country in the Third Reflection with no passport, the inability to mirrorwalk, and zero clue where the nearest Thresholds back into the Fourth or Second might lie. Her mind is a haze, her memories vague. She knows a wormhole from the Fourth sent her here. She remembers her mom and baby brother Evan. Makai and Stormy and Joshua . . .
Deep down El realizes she must end the Void once and for all. Is there a way to trap the darkness within its current vessel, kill it off completely? To do so would mean sacrificing another soul—the soul of a man Joshua claims is a traitor. But he's lied to her before, and even El senses Joshua can't be fully trusted, but one thing is certain . . .
The Void must be annihilated. And only the Verity—the light which birthed the darkness—can put an end to that which seeks to kill and destroy.
Book Depository / iBooks / Indie Bound / Kobo
The Review:
And the faerie tale has come to an end. This was certainly an interesting tale. It had it's ups and downs, but, for the most part, it was beautiful and unique.
Unbreakable was elegant chaos. It had beauty, heartache, and struggle. Ella was able to tie in the history of Unblemished and Unraveling in such a way that it all came flowing back to me as I read the end of the trilogy.
Though this book still had its problems, I found that I enjoyed it more than the first two. It had the same elegantly vivid writing style, but it felt like I got more of the story, and less of the love triangle. I really enjoyed the details in the world development and the faerie tale feel of the book.
I got to know most of the characters a little bit better. I still never completely connected with any of them, but it was nice to have more development to drive the story. I really loved the twists with The Fairy Queen, and the ending, too.
There were still a few times where I felt confused, and I never really enjoyed the pop culture references, but this was a quick read, and a nice ending. The entire series felt like it was inspired by different faerie tales, and the books were atmospheric and vivid. I'm glad I decided to finish the trilogy. It was magical and had so much originality to it, despite using a few old tropes.
If you love a faerie tale like atmosphere with a power struggle between good and evil, you may enjoy this trilogy. The good definitely outweighed the bad for me, and I loved the development of the world and magic system. I also really loved the morality of the story teaching that people are never truly just good or evil, it is our choices that help guide us to one or the other. It was a beautiful story indeed.
Thank you to FFBC and the publisher for sending me this free copy in exchange for my honest review, and as part of the blog tour.
About the Author:

Once upon a time, SARA ELLA dreamed she would marry a prince (just call her Mrs. Charming) and live in a castle (aka The Plaza Hotel). Though her fairy tale didn't quite turn out as planned, she did work for Disney—that was an enchanted moment of its own. Now she spends her days throwing living room dance parties for her two princesses and conquering realms of her own imaginings. She believes "Happily Ever After is Never Far Away" for those who put their faith in the King of kings.
Facebook / Good Reads / Google+ / Instagram / Twitter / Website / YouTube
Giveaway:
10 winners will win one of the 3 prizes pictured above
Prizes: Unblemished/Unraveling Mirror & Bookmark, Unraveling Water Bottle w/ Straw, Unblemished Bottle
US/Canada Only
https://www.rafflecopter.com/rafl/display/d9681b86296/?
Tour Schedule:
April 25th
April 26th
April 27th
April 28th
April 29th
April 30th
May 1st
---
Darque Dreamer
        Blogger/ Punk Rocker / Quirky Housewife
---