Happy Book Birthday to book 2, Bruja Born! My copy is on its way!
The Book: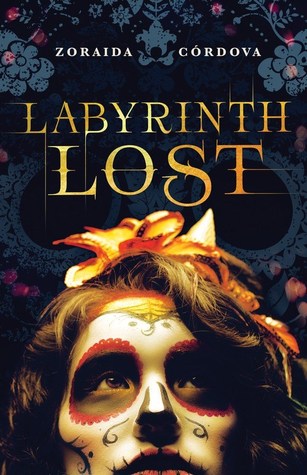 Book Title: Labyrinth Lost
Book Author: Zoraida Cordova
Genre: YA Fantasy
Publishing Date: September 6th, 2017
Publisher: Sourcebooks Fire
Date Read: June 4th, 2018
Synopsis: Nothing says Happy Birthday like summoning the spirits of your dead relatives.
Alex is a bruja, the most powerful witch in a generation…and she hates magic. At her Deathday celebration, Alex performs a spell to rid herself of her power. But it backfires. Her whole family vanishes into thin air, leaving her alone with Nova, a brujo boy she can't trust. A boy whose intentions are as dark as the strange marks on his skin.
The only way to get her family back is to travel with Nova to Los Lagos, a land in-between, as dark as Limbo and as strange as Wonderland…
The Review:
"Magic is in our blood. We come from a long line of powerful brujas."
Labyrinth Lost is full of darkness, magic, and enchantment. Rich in culture and diversity, this one is spellbinding! Be prepared to fall down the rabbit hole and lose yourself to the intense story of the Brooklyn Brujas!
Oh my stars, I loved this one! It was magical and full of surprises! I loved the darkness and intensity of it all. I loved the vibrancy of the writing, and the world, and I loved how the story felt like a dark retelling of Alice in Wonderland!
Zoraida created this amazing culture and history revolving around the brujas. It felt real and was so imaginative. I loved how lush and vivid everything was, with mixes of Greek mythology and Hispanic and Latin American legends and cultural nods. And, there were fairies!
I loved the dynamic characters and how they changed and grew with the story. Alex started off as naive and selfish, but matured and learned respect. Rishi was my favorite, though she didn't change much, she was full of confidence and loyalty and represented kindness and beauty. Alex's sisters, Lula and Rose, were adorable and added humor and snark to the story as they learned to embrace their culture, and their sister, with respect and maturity.
What really spoke to me the most, though, was the message Zoraida included on the importance of family and friendship. Alex took her family and culture for granted in the beginning. Through her journey, she learned that the most important part of being herself was her family, and her friendship with Rishi. She spent so much time trying to change who she was, instead of embracing it and appreciating her relatives and their history.
Labyrinth Lost was dark and beautiful. The respect the brujas had for their dead reminded me of my Mexican culture and the Day of the Dead celebration, and I loved the idea behind the Deathday mask and what it represented. The story shined with brilliance and was full of magic and powerful women!
"You walk with your head up and your eyes are brighter. You were the magic on your skin. It's the most beautiful thing I have ever seen."
Quotes are from the book, written by the author.
---
Darque Dreamer
Blogger/ Punk Rocker / Quirky
Housewife
---