Happy Monday lovelies!
Today we are taking a longer fall down the TBR Hole. This really needs to be done on a regular basis, so I decided to go through a good chunk of it today.. 😀 Don't forget to go check out Lost in a Story's blog because this is where the idea originated from, and Lia has a really lovely blog!
Here is how this TBR cleansing works:
Go to your goodreads to-read shelf.
Order on ascending date added.
Take the first 5 (or 10 if you're feeling adventurous) books
Read the synopses of the books
Decide: keep it or should it go?
P.S. I ordered my books by average rating (descending) because the first fourteen books in ascending (date added) order were all keepers, and that just wouldn't have been as much fun!
Down the Hole We Go!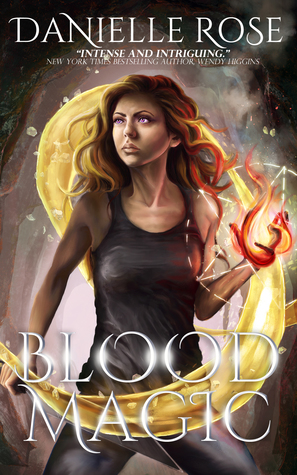 Book Title: Blood Magic
Added to TBR: October 9th, 2017
Synopsis: Avah Taylor thought she had already faced the worst.
As her coven's chosen one, destined to receive a power that could kill her, Avah was forced to make the ultimate sacrifice when she gave up her mortal life to become a vampire, the witches' greatest enemy. But just when she begins to adjust to her new life, even as she falls in love with her sire, the high priestess of her new coven is seized by Rogue vampires.
Guided by Avah's visions of the past, present, and future, Avah and the other vampires set out to rescue their priestess, but their journey leads Avah to the discovery that the conspiracy behind her power runs deeper than she ever imagined. As her visions grow increasingly terrifying, Avah begins to wonder if she may not have a future at all.
Keep or Delete: Keep. I already own the book, I just haven't had time to get to it yet.
Book Title: The Autumn Fairy
Added to TBR: April 17th, 2018
Synopsis: Katrin knows little about her origins, but whatever she is, it's certainly not human.
On an island where humans have banned magic and hunt all who possess it, the dark power within her has become too strong to hide. With each passing day, the threat grows. For if she cannot master her terrifying abilities soon, everyone around her will suffer. And that's something she cannot accept.
While Katrin is willing to sacrifice herself to save others, Peter, her childhood friend and protector, is not. But when he promises to save her at all costs, jeopardizing his own kingdom in return, he finds that his failure will mean either Katrin's death or the isle's doom.
And if unraveling the source of Katrin's power isn't difficult enough, a mysterious and powerful stranger from the forest reveals that he has plans of his own for Katrin…and the rest of the isle.
To protect their home, Katrin and Peter must face not only their worst fears about who and what they are but their true feelings for one another as well. For if they don't, everything they love will perish…
Keep or Delete: KEEP!! This is a recent add and I fell in love with the authors writing from her book in the Entwined Tales series.
Book Title: Haunting the Deep
Added to TBR: August 29th, 2017
Synopsis: Samantha Mather knew her family's connection to the infamous Salem Witch Trials might pose obstacles to an active social life. But having survived one curse, she never thought she'd find herself at the center of a new one. 
This time, Sam is having recurring dreams about the Titanic . . . where she's been walking the deck with first-class passengers, like her aunt and uncle. Meanwhile, in Sam's waking life, strange missives from the Titanic have been finding their way to her, along with haunting visions of people who went down with the ship. 
Ultimately, Sam and the Descendants, along with some help from heartthrob Elijah, must unravel who is behind the spell that is drawing her ever further into the dream ship . . . and closer to sharing the same grim fate as its ghostly passengers.
Keep or delete: Delete. I just don't feel an interest anymore.
Book Title: Eerie
Added to TBR: June 26th, 2017
Synopsis: Hailey Hartley has just enrolled in the world's premier supernatural university. It's a school she's never heard of, located in a town called The Middle of Nowhere, and run by a creature that's not supposed to exist. But at least she got a scholarship… 
Hailey's dreams have always been, well…vivid. As in monsters from her nightmares follow her into her waking life vivid. When her big sister goes missing, eighteen-year-old Hailey finds only one place offers her answers–a paranormal university in Alaska. There, she studies the science of the supernatural and must learn to live with a roommate from Hell, survive her otherworldly classes, and hope the only creature who can save her from the evil immortal who took her sister doesn't decide to kill her himself. 
Keep or Delete: Delete. Lost the interest, and realized it is a paranormal romance.
Book Title: Final Masquerade
Added to TBR: April 26th, 2017
Synopsis: The evening is ending and the guests are ready to leave but the final event of the night is just beginning the unmasking. Welcome to Final Masquerade where no one is who they seem.
Keep or Delete: Delete. I'm just not feeling it anymore.
Book Title: A Man Called Ove
Added to TBR: September 5th, 2017
Synopsis:  At first sight, Ove is almost certainly the grumpiest man you will ever meet. He thinks himself surrounded by idiots – neighbours who can't reverse a trailer properly, joggers, shop assistants who talk in code, and the perpetrators of the vicious coup d'etat that ousted him as Chairman of the Residents' Association. He will persist in making his daily inspection rounds of the local streets.
But isn't it rare, these days, to find such old-fashioned clarity of belief and deed? Such unswerving conviction about what the world should be, and a lifelong dedication to making it just so?
In the end, you will see, there is something about Ove that is quite irresistible…
Keep or Delete: Delete. I know a lot of people raved about this one, but I just don't have an interest anymore. It may be a re-add later.
Book Title: Salt to the Sea
Added to TBR: January 11th, 2017
Synopsis: World War II is drawing to a close in East Prussia and thousands of refugees are on a desperate trek toward freedom, many with something to hide. Among them are Joana, Emilia, and Florian, whose paths converge en route to the ship that promises salvation, the Wilhelm Gustloff. Forced by circumstance to unite, the three find their strength, courage, and trust in each other tested with each step closer to safety.
Just when it seems freedom is within their grasp, tragedy strikes. Not country, nor culture, nor status matter as all ten thousand people—adults and children alike—aboard must fight for the same thing: survival.
Keep or Delete: Keep. This one still sounds powerful and I think it would be an emotional read!
Book Title: The Reapers
Added to TBR: March 29th, 2018
Synopsis: The balance of life and death must be protected at all costs.
Nivian had never failed to Reap a marked soul. That is, until she meets Kain Evers, a Hunter and the only being on earth with the power to destroy her.
When Reapers start to go missing, the Balance is thrown into turmoil, forcing Nivian and Kain to trust each other as they search for answers. Which is no easy task as they fight the feelings growing between them.
As mortal enemies, they were never meant to work together, now they're forced to protect each other if they want any hope of righting the Balance before all is lost.
Unfortunately, to succeed, one of them must die.
Keep or Delete: Delete. I think I added this in an attempt to give the author's writing a second chance, but I am just not feeling interested anymore.
Book Title: Strange the Dreamer
Added to TBR: March 14, 2017
Synopsis: The dream chooses the dreamer, not the other way around—and Lazlo Strange, war orphan and junior librarian, has always feared that his dream chose poorly. Since he was five years old he's been obsessed with the mythic lost city of Weep, but it would take someone bolder than he to cross half the world in search of it. Then a stunning opportunity presents itself, in the person of a hero called the Godslayer and a band of legendary warriors, and he has to seize his chance or lose his dream forever.
What happened in Weep two hundred years ago to cut it off from the rest of the world? What exactly did the Godslayer slay that went by the name of god? And what is the mysterious problem he now seeks help in solving?
The answers await in Weep, but so do more mysteries—including the blue-skinned goddess who appears in Lazlo's dreams. How did he dream her before he knew she existed? And if all the gods are dead, why does she seem so real?
Welcome to Weep.
Keep or delete: Keep. I have a copy already and have yet to read anything by Laini.
Book Title: Still Me
Added to TBR: December 11th, 2017
Synopsis: Louisa Clark arrives in New York ready to start a new life, confident that she can embrace this new adventure and keep her relationship with Ambulance Sam alive across several thousand miles. She steps into the world of the superrich, working for Leonard Gopnik and his much younger second wife, Agnes. Lou is determined to get the most out of the experience and throws herself into her new job and New York life. 
As she begins to mix in New York high society, Lou meets Joshua Ryan, a man who brings with him a whisper of her past. Before long, Lou finds herself torn between Fifth Avenue where she works and the treasure-filled vintage clothing store where she actually feels at home. And when matters come to a head, she has to ask herself: Who is Louisa Clark? And how do you reconcile a heart that lives in two places?
Keep or Delete: Keep! I have to finish the series! ❤
Book Title: Effortless
Added to TBR: January 19th, 2018
Synopsis: Camilla Donati doesn't do relationships—it's just not her thing. She wants a fun time, not a long time. She might be exactly what Tommaso Rossi needs to make his vacation from the responsibilities as a Capo, a break worth taking. 
He didn't expect to find a woman like her with a mind full of filth. 
She didn't expect a man who would shatter all of her rules with only a grin. 
Chicago keeps calling Tommaso home, and further out of reach from the one thing he wants more than ever. Camilla's restless heart keeps getting in the way even when it's stuck between what is, and what could be. 
This should have been easy. 
It didn't have to be messy. 
Falling in love is effortless. 
It's people who make it hard
Keep or Delete: Delete. I added this after reading someone's review and thought this was about the mob. I guess I didn't read the synopsis well enough to realize this was an erotic novel. Totally not my thing.
Book Title: Surviving the Fall
Added to TBR: November 17th, 2017
Synopsis: When a devastating attack cripples and destroys every Internet-connected device in the country, Rick Waters is stranded a thousand miles from his wife, Dianne, and their children. To get back home he'll have to draw on every survival instinct he has as he's pulled into a web of lies and conspiracy that threaten not just his survival but that of the entire world. 
Surviving the Fall is a thrilling post-apocalyptic episodic series that focuses on Rick and Dianne Waters and how they each deal with the apocalypse. Stranded across the country away from his family, Rick must travel from California to Virginia to reunite with his wife and children, all while struggling to comprehend and deal with the horrors along the way. 
At home with her three children when she experiences the beginning of the end in a dramatic and deadly fashion, Dianne Waters has experience as a prepper and survivalist, but not even years of training and preparation have readied her for the darkness that comes with the end of the world. Now she must draw upon those skills to protect her loved ones and fight back against those who come against her and her family. 
Keep or Delete: Delete. I can see why I added it, but I am all apocalypsed out at the moment.
Book Title: The Haunting of Redrise House
Added to TBR: September 5th, 2017
Synopsis:  Dark things happened in RedRise House. Acts so bad they left a stain on the soul of the building. Now something is lurking there… waiting… dare you enter this most haunted house? 
Rosie is running from her past. Looking for peace and a new beginning. House sitting in the luxurious and romantic RedRise House seemed like a perfect plan to rediscover herself and rebuild her life. 
It is so far away from the past that she knows she can look to the future and yet something is not quite right. She hears voices, footsteps in the night. She wakes from terrible nightmares. Strange figures stare down at her bed with hidden faces–was it all just a dream? 
Then there are the ghostly children. Are they all part of her imagination or did something terrible happen here? 
Like animals, the children fight for her blood. Will they get it or is something darker waiting and watching for its chance to escape? 
Keep or Delete: Delete. I don't think it sounds as thrilling anymore.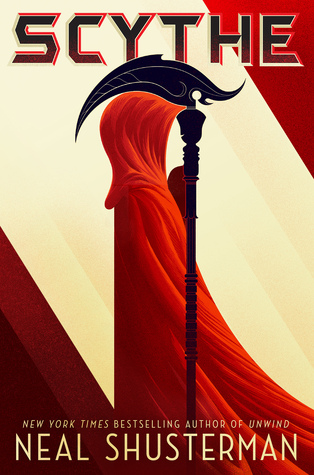 Book Title: Scythe
Added to TBR: December 29th, 2017
Synopsis: Thou shalt kill.
A world with no hunger, no disease, no war, no misery. Humanity has conquered all those things, and has even conquered death. Now scythes are the only ones who can end life—and they are commanded to do so, in order to keep the size of the population under control.
Citra and Rowan are chosen to apprentice to a scythe—a role that neither wants. These teens must master the "art" of taking life, knowing that the consequence of failure could mean losing their own.
Keep or delete: Keep. I still think this will be a highly enjoyable read!
Book Title: Red Winter
Added to TBR: February 5th, 2018
Synopsis:  Emi is the kamigakari. In a few short months, her life as a mortal will end and her new existence as the human host of a goddess will begin. Carefully hidden from those who would destroy her, she has prepared her mind, body, and soul to unite with the goddess-and not once has she doubted her chosen fate. Shiro is a yokai, a spirit of the earth, an enemy of the goddess Emi will soon host. Mystery shrouds his every move and his ruby eyes shine with cunning she can't match and dares not trust. But she saved his life, and until his debt is paid, he is hers to command-whether she wants him or not. On the day they meet, everything Emi believes comes undone, swept away like snow upon the winter wind. For the first time, she wants to change her fate-but how can she erase a destiny already wrought in stone? Against the power of the gods, Shiro is her only hope… and hope is all she has left.
Keep or Delete: Keep. I enjoy this author's writing and this one still sounds unique.
Book Title: Illuminae
Added to TBR: February 8th, 2017
Synopsis: This morning, Kady thought breaking up with Ezra was the hardest thing she'd have to do. This afternoon, her planet was invaded.
The year is 2575, and two rival megacorporations are at war over a planet that's little more than an ice-covered speck at the edge of the universe. Too bad nobody thought to warn the people living on it. With enemy fire raining down on them, Kady and Ezra—who are barely even talking to each other—are forced to fight their way onto an evacuating fleet, with an enemy warship in hot pursuit.
But their problems are just getting started. A deadly plague has broken out and is mutating, with terrifying results; the fleet's AI, which should be protecting them, may actually be their enemy; and nobody in charge will say what's really going on. As Kady hacks into a tangled web of data to find the truth, it's clear only one person can help her bring it all to light: the ex-boyfriend she swore she'd never speak to again.
Keep or Delete: Keep. I have a copy I need to get to this year.
Book Title: Children of Blood and Bone
Added to TBR: July 30th, 2017
Synopsis: They killed my mother.
They took our magic.
They tried to bury us.
Now we rise.
Zélie Adebola remembers when the soil of Orïsha hummed with magic. Burners ignited flames, Tiders beckoned waves, and Zélie's Reaper mother summoned forth souls.
But everything changed the night magic disappeared. Under the orders of a ruthless king, maji were killed, leaving Zélie without a mother and her people without hope.
Now Zélie has one chance to bring back magic and strike against the monarchy. With the help of a rogue princess, Zélie must outwit and outrun the crown prince, who is hell-bent on eradicating magic for good.
Danger lurks in Orïsha, where snow leoponaires prowl and vengeful spirits wait in the waters. Yet the greatest danger may be Zélie herself as she struggles to control her powers and her growing feelings for an enemy.
Keep or Delete: Keep!! I need to buy my copy soon!
Book Title: The Poet X
Added to TBR: January 11th, 2017
Synopsis: Laia is a slave. Elias is a soldier. Neither is free.
 
Under the Martial Empire, defiance is met with death. Those who do not vow their blood and bodies to the Emperor risk the execution of their loved ones and the destruction of all they hold dear.
 
It is in this brutal world, inspired by ancient Rome, that Laia lives with her grandparents and older brother. The family ekes out an existence in the Empire's impoverished backstreets. They do not challenge the Empire. They've seen what happens to those who do.
 
But when Laia's brother is arrested for treason, Laia is forced to make a decision. In exchange for help from rebels who promise to rescue her brother, she will risk her life to spy for them from within the Empire's greatest military academy.
 
There, Laia meets Elias, the school's finest soldier—and secretly, its most unwilling. Elias wants only to be free of the tyranny he's being trained to enforce. He and Laia will soon realize that their destinies are intertwined—and that their choices will change the fate of the Empire itself.
Keep or Delete: KEEP! I have a copy to read soon!
Book Title: Puddle Jumping
Added to TBR: January 18th, 2018
Synopsis: When it comes to love there's no such thing as conventional. 
Everyone thinks Colton Neely is special. 
Lilly Evans just thinks he's fascinating. 
Once friends when they were younger, their bond is cut short due to her accident prone nature and they go their separate ways. Years later, they meet again and Lilly learns that there is something special about the boy she once knew, but she has no idea what it all means. And she's not sure if she's ready to find out. 
When he walks through the corridor of her school the first day of her senior year, she knows that it's time to get to know the real Colton Neely. The more she learns, the deeper she falls. 
Their friendship grows into love, even as Colton does not express it in words. But one decision threatens to break down the world that Lilly has tried so hard to integrate into and she must figure out if the relationship can survive if they are apart.
Keep or delete: Delete. The cover is gorgeous, but I don't see myself picking it up now.
Book Title: Chromosomes
Added to TBR: February 12th, 2018
Synopsis: Sweet freedom lasted half a day.
Emma Hill longed for the day when she would be free to live her life. Free from the endless cycle of foster homes. Free from the life that defined her for twelve years. She had a lot of ideas about her new start. None of them involved being the prisoner of a mad scientist.
Emma is kidnapped on her eighteenth birthday and brought to a facility that is run by a man hell-bent on creating monsters. She is thrown together with one of his creations, a young man that is equal parts terrifying and intriguing.
Together, they escape, seeking refuge in a desolate town. But her companion isn't the only thing that goes bump in the night, and the person running the facility will do anything to get them back.
Keep or Delete: Keep for now. I could still see myself reaching for this.
TBR Status:
Books Deleted: 9
TBR Count: 486
I still don't think I have made a dent! Lol. If I inspired you to cleanse your own TBR, tag me so I can see what you choose to keep and delete! ❤
---
Darque Dreamer
Blogger/ Punk Rocker / Quirky
Housewife
---