Happy Monday lovelies!
Today we are taking another long fall down the TBR Hole. This really needs to be done on a regular basis, so I decided to go through another big chunk today.. 😀 As always, don't forget to go check out Lost in a Story's blog because this is where the idea originated from, and Lia has a such a lovely blog!
Here is how this TBR cleansing works:
Go to your goodreads to-read shelf.
Order on ascending date added.
Take the first 5 (or 10 if you're feeling adventurous) books
Read the synopses of the books
Decide: keep it or should it go?
P.S. I ordered my books by average rating (descending) because the first fourteen books in ascending (date added) order were all keepers, and that just wouldn't have been as much fun!
Down the Hole We Go!
Book Title: The Trials of Apollo
Added to TBR: May 2nd, 2017
Synopsis: How do you punish an immortal?
By making him human.
After angering his father Zeus, the god Apollo is cast down from Olympus. Weak and disorientated, he lands in New York City as a regular teenage boy. Now, without his godly powers, the four-thousand-year-old deity must learn to survive in the modern world until he can somehow find a way to regain Zeus's favour.
But Apollo has many enemies—gods, monsters and mortals who would love to see the former Olympian permanently destroyed. Apollo needs help, and he can think of only one place to go… an enclave of modern demigods known as Camp Half-Blood.
Keep or Delete: Delete for now. I have yet to read Percy Jackson, so I may change my mind after that.
Book Title: How to Disappear
Added to TBR: August 11th, 2018
Synopsis:  Vicky Decker has perfected the art of hiding in plain sight, quietly navigating the halls of her high school undetected except by her best (and only) friend, Jenna. But when Jenna moves away, Vicky's isolation becomes unbearable.
So she decides to invent a social life by Photoshopping herself into other people's pictures, posting them on Instagram under the screen name Vicurious. Instantly, she begins to get followers, so she adds herself to more photos from all over the world with all types of people. And as Vicurious's online followers multiply, Vicky realizes she can make a whole life for herself without ever leaving her bedroom. But the more followers she finds online, the clearer it becomes that there are a lot of people out there who feel like her— #alone and #ignored in real life.
To help them, and herself, Vicky must find the courage to face her fear of being "seen," because only then can she stop living vicariously and truly bring the magic of Vicurious to life.
In this beautiful and illuminating narrative, Sharon Huss Roat shines a light on our love of social media and how sometimes being the person you think you want to be isn't as great as being the person you truly are.
Keep or Delete: Delete. I think I just lost interest in this one.
Book Title: The Song of Achilles
Added to TBR: February 13th, 2017
Synopsis: Greece in the age of heroes. Patroclus, an awkward young prince, has been exiled to the court of King Peleus and his perfect son Achilles. By all rights their paths should never cross, but Achilles takes the shamed prince as his friend, and as they grow into young men skilled in the arts of war and medicine their bond blossoms into something deeper – despite the displeasure of Achilles' mother Thetis, a cruel sea goddess. But then word comes that Helen of Sparta has been kidnapped. Torn between love and fear for his friend, Patroclus journeys with Achilles to Troy, little knowing that the years that follow will test everything they hold dear.
Keep or delete: Delete. I just don't feel an interest anymore :(.
Book Title: Death and Night
Added to TBR: May 2nd, 2017
Synopsis:  An exclusive Star-Touched novella over 100 pages long! 
Before The Star-Touched Queen there was only Death and Night.
He was Lord of Death, cursed never to love. She was Night incarnate, destined to stay alone. After a chance meeting, they wonder if, perhaps, they could be meant for more. But danger crouches in their paths, and the choices they make will set them on a journey that will span lifetimes.
Keep or Delete: Keep for now. I still have an interest in the series.
Book Title: The Beyond Experience
Added to TBR: September 3rd, 2017
Synopsis:  Dr. Lewis had always found a way to hide his deepest secrets: the abuse as a child, the loss of his fiancé, the reasons why he rejected the lucrative offer from Harvard. But, when Kyle, his lab assistant, convinces him to push the limits of the drugs he'd spent a decade perfecting, his lies begin to unravel. 
Kyle's emotional events during treatment forced him to believe it was an event on another plane of life, a spiritual experience at its highest echelon. Thousands of people all over the world were experiencing similar events to Kyle's, claiming they'd been to heaven. However, Dr. Lewis disagreed, and spent countless hours searching for a neural pathway within the brain itself as the source of the augmented reality. 
More secrets, lies, and love drive the two close friends apart, beginning a cascade of events that point Dr. Lewis toward entering The Beyond Experience himself. He fought the treatment for nearly two decades, convinced his terrifying past would confront him. What he experiences becomes far more world shattering than he'd ever imagined possible, but will finally give him the answer to why his fiancé, Lily, had spoken her haunting final words: "forgive me."
Keep or Delete: Delete. I'm just not feeling it anymore.
Book Title: Alice: The Wanderland Chronicles
Added to TBR: May 20th, 2017
Synopsis:  Ever since the outbreak of the Plague, life hasn't been easy, and for seventeen-year-old Alice Carroll, it just got worse. Her sister, Dinah, has contracted the 'un-deadly' Momerath Virus and without a cure, will soon be worse than dead. She'll be momerath.
Alice must leave the safety of the Sector and venture into Momerath Territory to find the antidote – if it exists. Chasing a rumor about a mysterious doctor with the cure, Alice falls down the rabbit hole into Wanderland, where ravenous momerath aren't the only danger lurking.
Keep or Delete: Delete. Not feeling the interest anymore :(.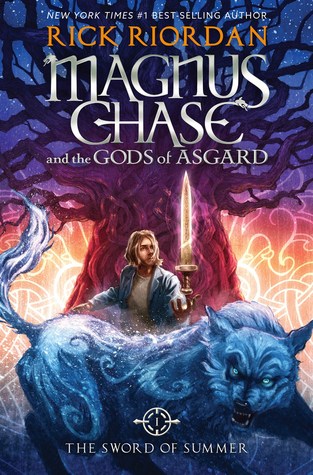 Book Title: The Sword of Summer
Added to TBR: May 2nd, 2017
Synopsis:  Magnus Chase has seen his share of trouble. Ever since that terrible night two years ago when his mother told him to run, he has lived alone on the streets of Boston, surviving by his wits, staying one step ahead of the police and the truant officers.
One day, Magnus learns that someone else is trying to track him down—his uncle Randolph, a man his mother had always warned him about. When Magnus tries to outmaneuver his uncle, he falls right into his clutches. Randolph starts rambling about Norse history and Magnus's birthright: a weapon that has been lost for thousands of years.
The more Randolph talks, the more puzzle pieces fall into place. Stories about the gods of Asgard, wolves, and Doomsday bubble up from Magnus's memory. But he doesn't have time to consider it all before a fire giant attacks the city, forcing him to choose between his own safety and the lives of hundreds of innocents. . . .
Sometimes, the only way to start a new life is to die.
Keep or Delete: Delete. May change my mind after Percy, but for now I'm no longer interested.
Book Title: The Bird and the Sword
Added to TBR: March 24th, 2017
Synopsis: The day my mother was killed, she told my father I wouldn't speak again, and she told him if I died, he would die too. Then she predicted the king would trade his soul and lose his son to the sky.
My father has a claim to the throne, and he is waiting in the shadows for all of my mother's words to come to pass. He wants desperately to be king, and I just want to be free.
But freedom will require escape, and I'm a prisoner of my mother's curse and my father's greed. I can't speak or make a sound, and I can't wield a sword or beguile a king. In a land purged of enchantment, love might be the only magic left, and who could ever love . . . a bird?
Keep or delete: Keep. A good blog friend always speaks highly of this author, so I need to read some of her work!
Book Title: The Lost Girl
Added to TBR: August 21st, 2017
Synopsis:  Her daughter disappeared four years ago. . .

Since her daughter went missing four years earlier, celebrated photographer Kurtiz Ross has been a woman alone. Her only companion her camera. Since Lizzie disappeared, she has blamed and isolated herself, given up hope. Until, out of the blue, an unexpected sighting of Lizzie is made in Paris.
Could this lead to the reconciliation she has dreamed of?
Within hours of Kurtiz arriving in Paris, the City of Light is plunged into a night of hell when a series of terrorist attacks bring the city to a standstill. Amid the fear and chaos, a hand reaches out. A sympathetic stranger in a café offers to help Kurtiz find her daughter.
A stranger's guiding light
Neither knows what this harrowing night will deliver, but the other woman's kindness – and her stories of her own love and loss in post-war Provence – shine light into the shadows, restoring hope, bringing the unexpected. Out of darkness and despair, new life rises. New beginnings unfold.
Dare she believe in a miracle?
Set during a time of bloodshed and chaos in one of the most beautiful cities on earth and along the warm fragrant shores of the Mediterranean, Kurtiz discovers that miracles really can happen . . .
Keep or Delete: Delete. I don't feel the interest anymore.
Book Title: Unmasked
Added to TBR: April 13th, 2017
Synopsis: Camilla Donati doesn't do relationships—it's just not her thing. She wants a fun time, not a long time. She might be exactly what Tommaso Rossi needs to make his vacation from the responsibilities as a Capo, a break worth taking. 
He didn't expect to find a woman like her with a mind full of filth. 
She didn't expect a man who would shatter all of her rules with only a grin. 
Chicago keeps calling Tommaso home, and further out of reach from the one thing he wants more than ever. Camilla's restless heart keeps getting in the way even when it's stuck between what is, and what could be. 
This should have been easy. 
It didn't have to be messy. 
Falling in love is effortless. 
It's people who make it hard
Keep or Delete: Delete.
Book Title: The Little Sisters of Eluria
Added to TBR: August 11th, 2017
Synopsis: "The Man in Black fled across the desert and the Gunslinger followed." This is our introduction to Roland Deschain, the last Gunslinger, published by Donald M. Grant in THE DARK TOWER: THE GUNSLINGER in 1982. Twenty years later Stephen King revised and expanded this volume. In his own words: "What I did want to do was to give newcomers to the tale of the Tower (and old readers who want to refresh their memories) a clearer start and a slightly easier entry into Roland's world. I also wanted them to have a volume that more effectively foreshadowed coming events.
This volume contains that expanded version as well as the novella THE LITTLE SISTERS OF ELURIA which chronicles an earlier adventure of Roland's as he persued the Man in Black.
Keep or Delete: Delete. Just lost the interest. Meh.
Book Title: Love My Way
Added to TBR: March 13th, 2018
Synopsis:  Even without seeing her face, I know that the woman standing at the water's edge is desperately sad. Her back is to me and her shoulders are slumped, perhaps heavy with regret. It kills me to know I am partly to blame, and for that reason alone, it's impossible to look at her. Leaning against the rough trunk of the tree, I close my eyes. My life will forever begin and end with her, and I'm unable to witness her heart breaking. 
Standing still is no longer an option, so I begin to pace. Is she still waiting for him or has he already left? Fear pools in my veins at the uncertainty. Above all else, I want her to be happy. If this is too hard, I'll have to walk away again. I let out a long breath, frustrated by the whole situation. 
Emerson Hart is the love of my life. Unfortunately, I'm not the only love of hers. And therein lies the problem.
Keep or Delete: Keep. Same blogger that raves about Amy Harmon spoke very highly of this one, so it is a must read for me!
Book Title: The Mad King
Added to TBR: February 11th, 2017
Synopsis: A new world in chaos, and a legendary love that never was… 
Hatter and Alice. Alice and Hatter. Two parts making up one whole. Their love was legend, until a curse came and ripped them apart forever. Rewriting their past, present, and future. But a couple of powerful fairy godmothers and one taciturn god are determined that curse or no, the lives of two of Kingdom's most famous inhabitants will be set to rights. Only problem is, one of them has just died and time is now running out for the other. Can Kingdom ever be restored again? 
Only time will tell…
Keep or delete: Delete. I love the cover but I don't feel the interest anymore.
Book Title: The Extinction Trials
Added to TBR: February 18th, 2018
Synopsis:  Betrayal. Sacrifice. Survival.
Welcome to the Extinction Trials.
In Stormchaser and Lincoln's ruined world, the only way to survive is to risk everything. To face a contest more dangerous than anyone can imagine. And they will do anything to win.
But in a land full of monsters – human and reptilian – they can't afford to trust anyone. Perhaps not even each other…
Keep or Delete: Delete.
Book Title: Girl at the Grave
Added to TBR: April 6th, 2018
Synopsis:  Valentine has spent years trying to outrun her mother's legacy. But small towns have long memories, and when a new string of murders occurs, all signs point to the daughter of a murderer. 
Only one person believes Valentine is innocent—Rowan Blackshaw, the son of the man her mother killed all those years ago. Valentine vows to find the real killer, but when she finally uncovers the horrifying truth, she must choose to face her own dark secrets, even if it means losing Rowan in the end.
Keep or Delete: Delete.
Book Title: Mosss Forest Child
Added to TBR: February 26th, 2018
Synopsis: Lucia needs a job, and she needs one fast. Looting dragon hordes hasn't proven profitable lately, and she's tired of waiting tables. Her business partner usually finds the work, but Sebastian isn't speaking with her, and Lucia's getting desperate.
Luckily, Lucia finds a simple request posted on a community board. All the man wants is an orchid. Nothing to it.
Except the flower only grows in a montane cloud forest in Grenalda… And Lucia must take a ship through sea serpent-infested waters to get there… And her new helpful friend—the one and only, dashing Captain Avery Greybrow—just might be a pirate.
At this rate, Lucia's not sure if she'll ever reach the orchid. But she's determined to try.
Keep or Delete: Keep!!
Book Title: Lady Mechanika
Added to TBR: November 12th, 2017
Synopsis:  After suffering a tragic loss, Lady Mechanika takes a trip to a small Mexican village just in time for their Día de los Muertos celebration. But the festivities turn truly deadly after the arrival of the Jinetes del Infierno, the mythical Hell Riders. A very special Day of the Dead Lady Mechanika three-part story!
Keep or Delete: KEEP! It looks so good!
Book Title: Deadly Catch
Added to TBR: December 12th, 2017
Synopsis: After twenty-four years in the U.S. Marines, recently retired Mac McClellan is happy to be a civilian again. He is enjoying a leisurely fishing vacation in the Florida panhandle when he hooks a badly decomposed body.
Then, when a bag of rare marijuana is discovered stashed aboard his rental boat, he realizes someone is setting him up to take the fall for murder and drug smuggling. Mac's plans for a more laid-back life must be put on hold while he works to clear his name as the number one suspect.
Mac launches an investigation with the help of Kate Bell, a feisty saleslady at the local marina with whom he has struck up a promising relationship. Along the way he must butt heads and match wits with local law enforcement officials, shady politicians, and strong-armed thugs from the Eastern Seaboard to sniff out and bring the real smuggler and killer to justice.
Keep or delete: Keep.
Book Title: The Beekeeper
Added to TBR: June 2nd, 2017
Synopsis:  A shocking discovery starts a trail of mayhem on the Cornish coast.
Alice Green is a beekeeper in the small Cornish village of Polgarrow. One evening, Alice finds something strange under the hollyhock bush in her garden. The gruesome discovery will change everyone's lives.
Detective Harriet Taylor has just transferred to the area from Edinburgh. As she investigates a series of shocking crimes, she grows close to the old beekeeper and is determined to bring the murderer to justice.
TBR Status:
Books Deleted: 14
TBR Count: 463
I actually feel like I made a tiny dent! Lol. If I inspired you to cleanse your own TBR, tag me so I can see what you choose to keep and delete! ❤
---
Darque Dreamer
Blogger/ Punk Rocker / Quirky
Housewife
---