The Book: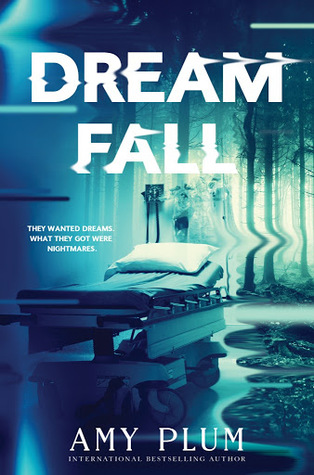 Book Title: Dreamfall
Book Author: Amy Plum
Genre: YA Horror
Publishing Date: May 2nd, 2017
Publisher: HarperTeen
Date Read: June 5th, 2017
Synopsis: Cata Cordova suffers from such debilitating insomnia that she agreed to take part in an experimental new procedure. She thought things couldn't get any worse…but she was terribly wrong.
Soon after the experiment begins, there's a malfunction with the lab equipment, and Cata and six other teen patients are plunged into a shared dreamworld with no memory of how they got there. Even worse, they come to the chilling realization that they are trapped in a place where their worst nightmares have come to life. Hunted by creatures from their darkest imaginations and tormented by secrets they'd rather keep buried, Cata and the others will be forced to band together to face their biggest fears. And if they can't find a way to defeat their dreams, they will never wake up.
The Review:
I wish I could say that I loved Dreamfall and felt the creep factor of the story. I expected horror along the lines of Nightmare on Elm Street, but I was pretty disappointed. I never experienced the chills I sought after. I never felt like I got in to the story, and I never felt like I connected to any of the characters.
The idea behind the story was promising. I just think that it could have been delivered better. I enjoyed the unique aspect of the plot, and the experiment to treat the insomnia of the patients, thus throwing them in to a continuous nightmare of which they could not escape unless they died. But, that seemed to be the extent of my enjoyment.
I kept reading, hoping I would experience the horror that the characters felt. I never felt it. I didn't even have creepy dreams after reading. Horror has, and always will be, subjective though, so even though I didn't feel it, I know others have. I just had really high expectations when I began reading, and they weren't met.
The characters seemed to fall flat for me, too. I never felt the connection to any of them. The only emotion I felt was toward one particularly character who seemed to enjoy berating the others, and even bullied one of the characters for being a little different.
The story just seemed muddled, and the ending really left me annoyed, partly because I had no idea there was supposed to be a second book, but also because it seemed rushed and felt like it was cut sooner than what it should have been, even for a cliffhanger. I never felt like I got enough of the characters' personalities, and enough of the actual nightmares. I applaud the author for the unique story premise, but this one just wasn't for me.
---
Darque Dreamer
Blogger/ Punk Rocker / Quirky
Housewife
---