The Book: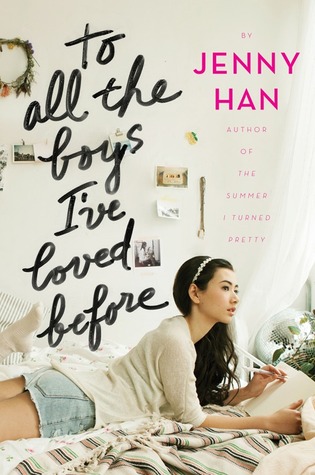 Book Title: To All the Boys I've Loved Before
Book Author: Jenny Han
Genre: YA Contemporary/ Romance
Publishing Date: Aprl 15th, 2014
Publisher: Simon & Schuster
Date Read: August 12, 2018
Synopsis: What if all the crushes you ever had found out how you felt about them… all at once? 
Sixteen-year-old Lara Jean Song keeps her love letters in a hatbox her mother gave her. They aren't love letters that anyone else wrote for her; these are ones she's written. One for every boy she's ever loved—five in all. When she writes, she pours out her heart and soul and says all the things she would never say in real life, because her letters are for her eyes only. Until the day her secret letters are mailed, and suddenly, Lara Jean's love life goes from imaginary to out of control.
The Review:
Ah, to be young and in high school again. This book took me back to the days of "he said she said", young love, hormonal chaos, and "he loves me, he loves me not." It was refreshing, heart fluttering, and oh so cute!
I loved how nostalgic this book made me for my younger days. I loved that even though it was predictable, it was still unique and unpredictable. What I really loved, though, was that the story stressed the importance of family and sisterly love during those teenage years.
I loved Lara Jean and her quirkiness. I loved Margot and her strength, and I loved Kitty and her frankness. The Song Girls stole my heart and they were each beautiful, strong, and unique!
This book was super sweet and full of comedy and emotion. I enjoyed how much Dr. Covey cared about his daughters so much and how he really tried to fill the void of their mother. I also really loved how their mother was still present even though she was no longer with them.
The story, though predictable and cliché at times, was powerful and entertaining! I loved the idea behind Lara Jean writing her "goodbye love" letters to her crushes. I loved the hilarity behind the fact that they accidentally made their way to their "recipients", and I loved how Lara Jean changed and grew from the experience. It was a one sitting kind of book and I'm dying for the next one! 4.5 stars!
Movie Review:
I absolutely ADORED the movie! It was super cute, VERY close to the book, and gave me all the feels! I loved everything about it and I can't count how many times I laughed! It was amazing how the movie managed to capture the nostalgia of high school for someone like me who graduated in 2005, but also added little nods to the 80's and 90's to capture the hearts of a wider crowd. Even the diner scene spoke to some of the older generation.
The casting choices were perfect. I could not have picked a better Lara Jean. She was phenomenal and very love-able and quirky! Peter was so swoon worthy, and had just the right amount of charm. Kitty was incredibly feisty and adorable. I so wanted Margot to be my big sister, and I loved the choice for Dr. Covey!
The aesthetics in the movie were quite eye pleasing. Whoever designed Lara Jean's room got it perfect. It felt like Lara Jean, whether it was clean or messy, lol! I loved the style of the houses and the way the school felt, and they nailed that ski trip and diner!
And, can we talk about the music for a minute? I may need to find out how I can get the soundtrack to the movie because the music was ON POINT! Each song fit the scene so incredibly well, and they even added in one of my all time favorite 80's songs!
When I say that it was very close to the book, I mean VERY CLOSE. Probably the closest I've ever seen an adaptation get, and not just because it followed the story, but because it had the same exact feeling as the book did. Yes, there were changes (of course there were changes because books are more open to interpretation), and I'm actually not going to mention what was different, because the changes seemed like they fit as far as adapting from book to screen, and the changes did not affect the overall impact. What was important was that it felt like I had just re-read the book and became nostalgic.
As I'm writing this review I'm feeling the urge to watch the movie again. I am glad that they kept it true to the book, didn't over sexualize anything, and still made enough changes to capture a wider audience and keep the interest of the older age group while being age appropriate for teenagers. It was perfection and I'm really hoping they decide to adapt the next two books!
---
Darque Dreamer
Blogger/ Punk Rocker / Quirky
Housewife
---