The Book: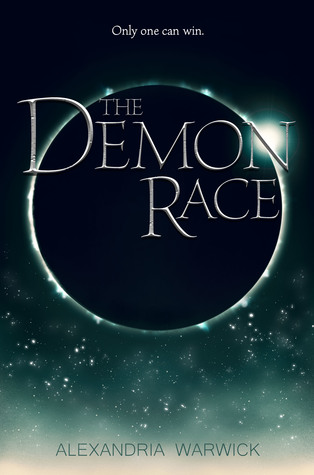 Book Title: The Demon Race
Book Author: Alexandria Warwick
Genre: YA Fantasy/ Paranormal
Publishing Date: September 18th, 2018
Publisher: Wolf Publishing
Date Read: August 31, 2018
Synopsis: Hidalgo meets An Ember in the Ashes in this Middle Eastern-inspired YA fantasy debut.
A race across the desert.
An unimaginable prize.
It occurs once every thousand years: the Demon Race. A test of will and strength, it is a race across the Saraj, a fight for the prize of a lifetime. And it is the key to Namali Hafshar's freedom.
When shy, seventeen-year-old Namali learns of her arranged marriage, she flees home and enters the Demon Race for the chance to change her fate. But to compete, she must cross the Saraj on a daeva, a shadow demon that desires its own reward: to infect her soul with darkness.
Namali soon learns the desert holds more dangers than meets the eye. The only person she can trust is Sameen, a kind competitor seeking his own destiny. As her affection for him grows, however, so too does the darkness in her heart.
In this race of men and demons, only one can win. But the price of winning might be more than Namali is willing to pay.
The Review:
"…when someone has you running scared, you need to stop and fight for your future, for your dreams."
The Demon Race was intense and edgy. But, it wasn't just about a dangerous race across the desert for a prize. It was about a race to survive a journey of self discovery. It was about the struggle between light, darkness and the balance between.
Alexandria built an incredible world and story here. There was layer upon layer of rich detail that drew me in and kept me turning the pages. At any given point, I felt like I was in the middle of the Saraj desert with Namali. The writing was vivid and beautiful.
I loved how Alexandria took inspiration from very real struggles of women from the middle east and incorporated that in to Namali's story. Namali wasn't just fighting to survive a very dangerous race involving demons. She was also fighting an arranged marriage, and the oppression of women. She was fighting to figure out who she was deep inside, and desperately fighting the darkness within.
Namali was such a strong character. She really grew in strength and courage as the story went on. She started off not really knowing who she was since she was held down by the practices of her village, but she found her determination to change her situation by fighting for her life in the race.
This story was exciting, highly developed, and very deep. I loved learning the history of the world and its deities. I enjoyed getting to know Namali and Sameen and watching them both change and grow as they made their way through the race, an got to know each other. And I loved learning the story behind the race and witnessing the danger of it. This book could have been made in to an amazing movie like Hidalgo.
"You cannot have courage without fear."
Thank you to the author for providing me with this ARC in exchange for my honest review!
Quotes are from the book, written by the author and may not be final, as this is an unfinished copy.
---
Darque Dreamer
Blogger/ Punk Rocker / Quirky
Housewife
---