The Book: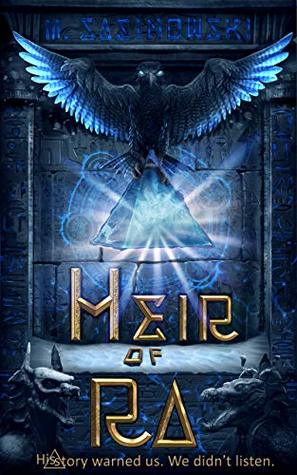 Book Title: Heir of Ra
Book Author: M. Sasinowski
Genre: YA Fantasy
Publishing Date: August 12th, 2018
Publisher: Kingsmill Press
Date Read: September 18th, 2018
Synopsis: Alyssa signed up to study history, not to rewrite it. 
An excavation of the fabled Hall of Records beneath the Sphinx unleashes an ancient disease that leaves her father fighting for his life. As Alyssa races to find a cure, she stumbles onto an impossible artifact that could change history—or destroy our future. 
With unexpected help from Oxford student Paul Matthews, Alyssa evades ruthless adversaries set on harnessing the power of the artifact. As a global epidemic looms, they must unravel deep secrets hidden within it and unveil the link between a mythical civilization and the birth of Egyptian mythology, before time runs out.
Author Q & A:
Me: What inspired you to write the book? 
M. Sasinowski: I've always been drawn to mythology and ancient civilizations and also loved books that played in multiple timelines, or told a story within a story, like Inkheart or Neverending Story. Being a huge scifi and fantasy geek, I tried to combine all those elements and write a book that I'd enjoy reading. In retrospect, it may have been a bit of a gamble for a debut novel, but it seems to have turned out ok. So far I couldn't be happier with the reception Heir of Ra has been getting!
Me: Any movies or television shows spark your inspiration?
M. Sasinowski: Countless of them. I wish I could give them all credit, but it would take the rest of the interview. The Indiana Jones and Bourne Identity movies are examples of amazing pacing as well as a strong protagonist who is also vulnerable. The Star Trek shows and movies helped develop my appreciation for science fiction that is based on real science. Shows like the Avatar the Last Airbender cartoon taught me that it was possible to develop a storyline that can appeal to young readers as well as an older audience. I also love documentaries and shows about archaeology and ancient civilizations; real history is sometimes even more fascinating and inspiring than fiction.
Me: Are there any people in your life that you drew inspiration from for any of the characters? 
M. Sasinowski: That's one of the most fun things about being an author! We are always on the lookout for interesting folks from which we can draw inspiration for our characters. One of my daughter's favorite shirt says "I'm an author, anything you say may end up in my novel." I rarely base an entire character on a single person, but my characters definitely include traits of people I've met.
Me: What was your favorite scene to write?
M. Sasinowski: Hmmm… I don't have one particular scene that stands out, but the flashback scenes were some of the most challenging and most enjoyable scenes to write.
Me: What was your least favorite scene to write?
M. Sasinowski: What an interesting question… Let me ponder on it for a minute… Nope, I can't think of one that I didn't enjoy writing!
Me: How long did it take you to write the book?
M. Sasinowski: The entire process took about ten years. The story has been in my head for even longer, but I was too busy with my scientific and clinical career to make serious progress on the manuscript. I wrote on-and-off for a few years, but realized that I really had to commit to it to finish it. Once I did, it took about a year.
Me: What kind of research did you do to write the story of Horus?
M. Sasinowski: I grew up watching TV shows about Egypt, so I did have a little bit of a background. Once I decided to incorporate Egyptian mythology into the book, I realized how much there was I didn't know, so I scoured the web and learned as much as I could about the figures and mythology that I could incorporate into the story. Putting all the pieces together and creating a world that included elements of real history, mythology, and fiction was one of the most challenging, but also most enjoyable, aspects of writing this book.
Me: What are some of your favorite movies and books?
M. Sasinowski: Hyperion by Dan Simmons, RA Salvatore's Dark Elf series, most of the books by James Rollins, Star Wars, Star Trek, Lord of the Rings, His Fair Assassin series by Robin LaFevers.
Me: What do you like to do when you are not writing or working?
M. Sasinowski: Between the P/R work for Heir of Ra and writing the sequel, I haven't had too much free time lately, but I try to squeeze in time to read and watch movies when I can, and work out to clear my head. I get up pretty early and go for a long walk in the morning to collect my thoughts and plan out the day. When I get back I answer messages from readers over a cup of decaf cappuccino, then it's on to writing!
About the Author:
About the Author – written from the point-of-view of his 15-year old daughter (that's me! 🙂
Some say that M. Sasinowski writes until 4 am… fueled by a single cup of decaf coffee. Others say this Polish-born American hyper-nerd absorbs energy from late-night TV space shows. No matter the truth… he's my dad. He will never be cool.
He loves archaeology, Star Wars/Trek, martial arts (especially women who kick butt), and impromptu father/daughter (that's me! 🙂 science debates or music jam-sessions. He's kind of smart, I suppose (he has a physics PhD, and an MD, or whatever) and likes to build computers for fun.
His teenage daughter (that's me! 🙂 is occasionally a handful to deal with and also served as the inspiration for the main character in his debut young adult novel Heir of Ra.
You may recognize him from his glorious hair or his tendency to do the "vacuum cleaner" dance to embarrass his daughter (that's me… :(.
If you ever see this man, approach with care and greet him in a language he understands, like in Klingon or, better yet, in Wookie.
Guurrghghgh!
Facebook / Good Reads / Google + / Instagram / Twitter / Website
---
Darque Dreamer
Blogger/ Punk Rocker / Quirky Housewife
---