The Book: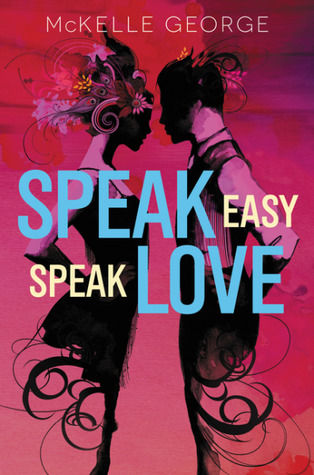 Book Title: Speak Easy Speak Love
Book Author: McKelle George
Genre: YA Romance/ Historical Fiction
Publishing Date: September 19th, 2017
Publisher: Greenwillow Books
Date Read: December 13th, 2018
Synopsis:  Six teenagers' lives intertwine during one thrilling summer full of romantic misunderstandings and dangerous deals in this sparkling retelling of Shakespeare's Much Ado About Nothing.
After she gets kicked out of boarding school, seventeen-year-old Beatrice goes to her uncle's estate on Long Island. But Hey Nonny Nonny is more than just a rundown old mansion. Beatrice's cousin, Hero, runs a struggling speakeasy out of the basement—one that might not survive the summer.
Along with Prince, a poor young man determined to prove his worth; his brother, John, a dark and dangerous agent of the local mob; Benedick, a handsome trust-fund kid trying to become a writer; and Maggie, a beautiful and talented singer; Beatrice and Hero throw all their efforts into planning a massive party to save the speakeasy. Despite all their worries, the summer is beautiful, love is in the air, and Beatrice and Benedick are caught up in a romantic battle of wits that their friends might be quietly orchestrating in the background.
The Review:
"Hey Nonny Nonny!"
And we started off with a bang! Rum running, car chases, and gunfire, oh my! With such an exciting beginning I only wish the the book had kept the momentum.
Speak Easy Speak Love was full of humor and intrigue, though. I loved the historical setting of the Roaring 20's and I adored the retelling of Much Ado About Nothing. It was an easy, predictable read.
The cast of characters were cheeky, diverse, and highly entertaining. Beatrice's wit and sarcasm had me rolling in laughter at times. Benedick's stubbornness intrigued me to no end. I admired Maggie and her sense of self and hard work, and I loved how wild and quirky Hero was. Prince and John equally stole my heart and I just couldn't get enough of everyone!
I loved the action and comedy, and found the romances to be mildly satisfying. I do wish that I had loved the book more. I had so looked forward to it, and I had put it off for far too long, being afraid that I would be disappointed. It was good, and definitely worth a read, but the pacing slowed down drastically after the beginning, and the story was super predictable. I'd rate it 3.5 stars.
---
Darque Dreamer
Blogger/ Punk Rocker / Quirky Housewife
---