Happy February Calendar Girls Participants! January has flown by, and it's time again to rant and rave about our favorite books!
Katie @ Never Not Reading and I were so excited when the votes came back for this month's choice! Black History Month is so important to celebrate, and we are looking forward to adding more books to our tbr's from all your choices!
~Black History Month: (Favorite Book By a Black Author)

~
Top Contendors:
Synopsis:
As the youngest of seven brothers born with magical gifts, Jack's often felt he has something to prove. But revealing their powers makes them targets of the fae, who will stop at nothing to hide their existence from mankind. So when Jack sneaks out on Halloween to compete in a local Battle of the Bands, he breaks his family's cardinal rule to guard their secret at all costs. 
But old enemies have returned and new dangers are awake. 
When Jack gets dragged through a portal and winds up in Faerie, he stumbles across an ancient relic he simply can't leave behind. And escaping from Faerie is only the beginning as the harp's former owner is determined to see that Jack pays for his crime. 
With magic and monsters closing in from all sides, Jack must sever his ties to Faerie before the fae's legendary Wild Huntsman comes for his soul.
About the Author:
Alicia Gaile is the author of YA contemporary fantasy and fairy tale retellings. She wrote her first fairy story at the age of twelve after visiting the Goll Woods Old-Growth forest in Ohio with her aunt. She came across a meadow with a fallen down tree where she could practically see fairies and leprechauns dancing with unicorns in the dappled sunlight. After receiving a Creative Writing degree from Georgia College and State University she began writing early versions of Trial by Song while living abroad in southeast Asia. She currently resides in El Paso, Texas with her family and two dogs.
Synopsis:
They killed my mother.
They took our magic.
They tried to bury us.
Now we rise.
Zélie Adebola remembers when the soil of Orïsha hummed with magic. Burners ignited flames, Tiders beckoned waves, and Zélie's Reaper mother summoned forth souls.
But everything changed the night magic disappeared. Under the orders of a ruthless king, maji were killed, leaving Zélie without a mother and her people without hope.
Now Zélie has one chance to bring back magic and strike against the monarchy. With the help of a rogue princess, Zélie must outwit and outrun the crown prince, who is hell-bent on eradicating magic for good.
Danger lurks in Orïsha, where snow leoponaires prowl and vengeful spirits wait in the waters. Yet the greatest danger may be Zélie herself as she struggles to control her powers and her growing feelings for an enemy.
About the Author:
Tomi Adeyemi is a Nigerian-American writer and creative writing coach based in San Diego, California. Her debut novel, CHILDREN OF BLOOD AND BONE, comes out March 6th, 2018 and the movie is currently in development at Fox with the producers of Twilight and The Maze Runner attached. After graduating Harvard University with an honors degree in English literature, she received a fellowship that allowed her to study West African mythology and culture in Salvador, Brazil. When she's not working on her novels or watching Scandal, she can be found blogging and teaching creative writing to her 3,500 subscribers at tomiadeyemi.com. Her website has been named one of the 101 best websites for writers by Writer's Digest.
My Top Choice: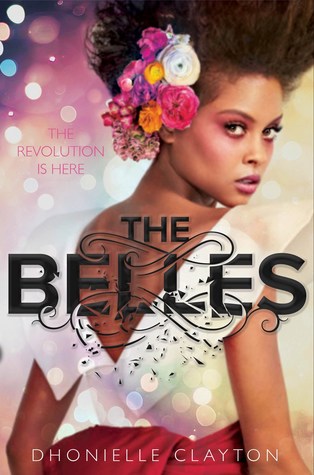 Synopsis: 
Camellia Beauregard is a Belle. In the opulent world of Orléans, Belles are revered, for they control Beauty, and Beauty is a commodity coveted above all else. In Orléans, the people are born gray, they are born damned, and only with the help of a Belle and her talents can they transform and be made beautiful.
But it's not enough for Camellia to be just a Belle. She wants to be the favorite—the Belle chosen by the Queen of Orléans to live in the royal palace, to tend to the royal family and their court, to be recognized as the most talented Belle in the land. But once Camellia and her Belle sisters arrive at court, it becomes clear that being the favorite is not everything she always dreamed it would be. Behind the gilded palace walls live dark secrets, and Camellia soon learns that the very essence of her existence is a lie—that her powers are far greater, and could be more dangerous, than she ever imagined. And when the queen asks Camellia to risk her own life and help the ailing princess by using Belle powers in unintended ways, Camellia now faces an impossible decision. 
With the future of Orléans and its people at stake, Camellia must decide—save herself and her sisters and the way of the Belles—or resuscitate the princess, risk her own life, and change the ways of her world forever.
About the Author:
Dhonielle Clayton is the co-author of the Tiny Pretty Things series. She grew up in the Washington, DC suburbs on the Maryland side and spent most of her time under her grandmother's table with a stack of books. A former teacher and middle school librarian, Dhonielle is co-founder of CAKE Literary—a creative development company whipping up decidedly diverse books for a wide array of readers—and COO of the non-profit, We Need Diverse Books. She's got a serious travel bug and loves spending time outside of the USA, but makes her home in New York City, where she can most likely be found hunting for the best slice of pizza.
My Review:
The Belles was brilliant! It was an intensely thought provoking story about beauty and morality and the importance of diversity and loving yourself. It was absolutely breathtaking!
I finished this gem in one sitting! I loved it! I loved the gorgeous writing. I loved the history behind the world and The Belles. I loved the messages portrayed in the story, and I LOVED Camellia!
Camellia made the book! She was strong, brave, and kind at heart. She took on a powerful journey of self discovery, and she represented inner beauty and fierceness all the while! She was a breath of fresh air in a world obsessed with outer beauty.
The Belles held such an important message about learning to love yourself and to think of yourself as beautiful no matter what. It really highlighted issues that have always been around regarding the pressure we put on ourselves, and others, to feel beautiful. It highlighted issues of racism and prejudice and the little green monster called jealousy. It was incredibly powerful!
I really loved everything about this one! The writing was beautiful. The setting was so vividly colorful, and the atmosphere was intense. The idea of the arcana and The Belles and their origins was genius, and the depth of the characters and messages behind the story was emotional! The Belles was deep, dark, and delicious! 4.5 stars!
Content Warning:
Attempted sexual assault and violence.
(All other images found on google and Good Reads.)
February Calendar Girls Participants:
For those who are new to Calendar Girls, it is a monthly blog event, created by Melanie at MNBernard Books, and Flavia at Flavia the Bibliophile, that was inspired by the Neil Sedaka song Calendar Girl. Just like the song, each month has a specific theme, voted on by the participants, where we get to talk about a particular book we love or think fits the theme the best. The blog event was created to incite fun bookish discussions and to spread the blogger love by introducing us to new bloggers and/or books that we have not come across before.
If this sounds like something you would enjoy, make sure to head to my Calendar Girls info page! Drop a comment and let me know if you are interested in joining us, and sign up for the newsletter if you would like monthly updates on the chosen themes and blogger picks! We'd love to have you join us!
If you are joining on the fun today, make sure to link back to this post AND Katie's post so we can add your name and choice to the list of participants for all to enjoy!
---
Darque Dreamer
Blogger/ Punk Rocker / Quirky Housewife
---