The Book: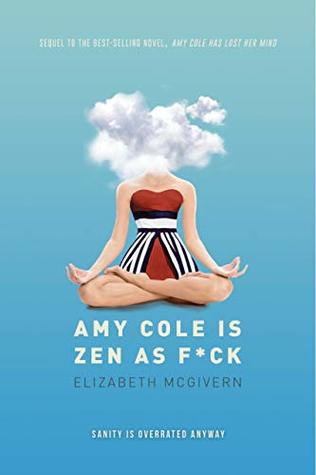 Book Title: Amy Cole Is Zen As F*ck
Book Author: Elizabeth McGivern
Genre: Adult Contemporary
Publishing Date: November 23rd, 2018
Publisher: Pernickety Publishing
Synopsis: It's been almost two years since Amy Cole walked through the door of her therapist's office and now she's ready to emerge as the sane, zen-like woman she has always wanted to be. Unfortunately for Amy, life has the nasty habit of not playing along.
There's no time for a quiet life with a business to run, family life to balance and a newly-single best friend to keep an eye on.From getting embroiled in a feud with a maniacal diet guru, making sure Elle isn't murdered by strangers from the internet and dealing with the mother-in-law from hell, mayhem always seems to find a way into Amy's life.
Elle De Bruyn is on the cusp of finalising her divorce and is ready to jump, head-first, into dating once again. She soon learns that finding love in the 21st century is a tricky business. She lives in hope that somewhere in between the liars, cheats and unsolicited dick pics there's still a chance for one more great love affair.
With life in a constant state of chaos, it doesn't take long for Amy to realise that therapy was the easy part and now it's time for the real work to begin.
Is sanity really all it's cracked up to be?
Content Warning: Language, depression, discussion of suicide, and sexual content.
The Review:
"Amy, therapy was never going to wave a magic wand and fix your life and turn it into some completely sterile existence, it was giving you the tools to help you navigate the mess. The mess is life."
There are few things out there that are beautiful and wondrous enough to make me laugh and cry in the same sitting. I count Doctor Who among one of those things, and now I count the Amy Cole series. Amy Cole's story gives me all the feels, and I love it!
This book was so damn good. I thought I had loved Amy Cole Has Lost Her Mind, but this one took the cake! It had beauty, emotion, humor, and all the characters that I loved in book 1! My heart was full the entire time I was reading, and I laughed so much throughout. And, that ending was so powerful and left me in tears!
Amy Cole Is Zen As F*ck was about life after therapy, life after depression, and working through the fear of relapse while living the mess we call life. It was astoundingly powerful and beautifully heartwarming. It touched my soul, more so than book 1, and left me utterly satisfied and emotional.
"What if I leave here and all it takes is one bad day for me to be back to square one. What if the depression has just been biding its time and comes back worse than before? I'm scared to feel this well, to feel in control. I think I'm scared to be happy."
It was about friendship, family, and finding happiness. And, it was about two amazing, strong, beautiful women and their lives. I could not get enough of Amy Cole and Elle De Bruyn!
These two women have always been so different, but have been like sisters to each other despite it all. Each have dealt with their share of heartache and bullshit in their lives, and both have grown, and changed, and learned from their experiences. They drove the story and really had me laughing with their antics!
I just loved this book so much! It was about dealing with life and all the craziness it can throw your way. It was about learning how to live with emotional set backs and rolling with the punches, and it was crazy beautiful fun!
"You're allowed to be angry about it and fed up at life knocking you down, it's all part of being human and experiencing all the ups and downs."
Thank you to the author for providing me with this free e-ARC in exchange for my honest review.
Quotes are from the book, written by the author and subject to change in the published version.
Darque Dreamer
Blogger/ Punk Rocker / Quirky
Housewife
---