The Book: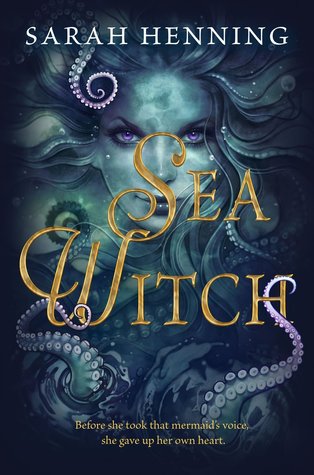 Book Title: Sea Witch
Book Author: Sarah Henning
Genre: YA Fantasy/ Faerie Tale Retelling
Publishing Date: July 31st, 2018
Publisher: Katherine Tegen Books
Synopsis: Everyone knows what happens in the end. A mermaid, a prince, a true love's kiss. But before that young siren's tale, there were three friends. One feared, one royal, and one already dead.
Ever since her best friend, Anna, drowned, Evie has been an outcast in her small fishing town. A freak. A curse. A witch.
A girl with an uncanny resemblance to Anna appears offshore and, though the girl denies it, Evie is convinced that her best friend actually survived. That her own magic wasn't so powerless after all. And, as the two girls catch the eyes—and hearts—of two charming princes, Evie believes that she might finally have a chance at her own happily ever after.
But her new friend has secrets of her own. She can't stay in Havnestad, or on two legs, unless Evie finds a way to help her. Now Evie will do anything to save her friend's humanity, along with her prince's heart—harnessing the power of her magic, her ocean, and her love until she discovers, too late, the truth of her bargain.
The Original Faerie Tale:
The Little Mermaid was written by Hans Christian Anderson, and first published in 1837. Anderson's tale revolved around a young mermaid who was willing to give up the life she loved in the ocean so she could gain a human soul and marry a prince.
In the original tale, the Mermaid saves the prince from drowning, but is deeply saddened when he awakes believing it was another woman that saved his life. She seeks out the Sea Witch, after being told by her grandmother that mermaids cease to exist when they pass away, whereas humans have souls that live forever, and decides to make a sacrifice to live on land and seek her prince.
The Sea Witch gives the Mermaid a potion to grow legs, but in return, cuts out her tongue, and takes her voice, and promises excruciating pain upon the transformation, and for every step the mermaid takes with her new legs. The mermaid is ultimately cursed though, because she must either win the prince's love, or die and turn to sea foam to be washed away by the ocean.
The Review:
Sea Witch was such an intriguing read for me! It felt very much like a retelling of The Little Mermaid, but ended up being an origin story, like Heartless was to the Red Queen. It was very faerie tale-esque and, not only involved mermaids and magic, but witches too! Though it wasn't a perfect read, it did keep my attention enough to get me to read it in one sitting.
I loved the setting of the story. It was a little old timey, set in a fishing town, so it really fit with the tale. It was detailed and vivid, and really felt believable, but, at the same time, felt like it was the perfect setting for a faerie tale.
The characters were what really made the story though. Each character helped shape Evie in to the villain we all know. We had Iker, the charming playboy, Nik, the protective best friend, Anna, the sad memory, and Annamette, the hope for new friendship and symbol of change. Each played their part. Each were unique, and each affected Evie emotionally. And, I really couldn't help but grow attached to Evie and the obstacles she had to face during the story. Having to hide being a witch in a town that still yearned for witch hunts, all while missing the best friend she lost must have been so difficult.
And, as with most faerie tales, this one definitely held some moral lessons, and magic. It spoke to me about the importance of following your heart, doing what's right, figuring out who you can trust, and being true to yourself. It was full of enchantment from the little spells Evie taught herself, to the magic of Annamette, the mermaid.
Sea Witch felt like a nice mix of the Disney movie and the original tale, all wrapped up in an origin story. It had beauty, darkness, and charm. It was a quick, easy read that had faerie tale written all over it!
Art Board:
Darque Dreamer
Blogger/ Punk Rocker / Quirky
Housewife
---