The Book: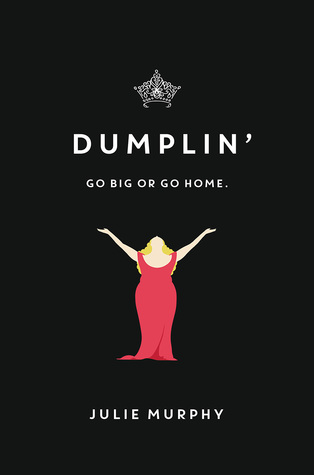 Book Title: Dumplin'
Book Author: Julie Murphy
Genre: YA Contemporary
Publishing Date: September 15th, 2015
Publisher: Balzer + Bray
Synopsis: Self-proclaimed fat girl Willowdean Dickson (dubbed "Dumplin'" by her former beauty queen mom) has always been at home in her own skin. Her thoughts on having the ultimate bikini body? Put a bikini on your body. With her all-American beauty best friend, Ellen, by her side, things have always worked…until Will takes a job at Harpy's, the local fast-food joint. There she meets Private School Bo, a hot former jock. Will isn't surprised to find herself attracted to Bo. But she is surprised when he seems to like her back.
Instead of finding new heights of self-assurance in her relationship with Bo, Will starts to doubt herself. So she sets out to take back her confidence by doing the most horrifying thing she can imagine: entering the Miss Clover City beauty pageant—along with several other unlikely candidates—to show the world that she deserves to be up there as much as any twiggy girl does. Along the way, she'll shock the hell out of Clover City—and maybe herself most of all.

The Barnes and Noble button is an affiliate link, which means I do get a small percentage if you make a purchase.
The Review:
"Beautiful he says. Fat I think. But can't I be both at the same time?"
Dumplin' touched something deep inside of me that I have never found any other story to relate to. I've always been the fat girl. I've always had insecurities. I've always hated my body, but, at the same time, I've always tried to project confidence and that "I don't give a shit what you think," attitude in the way I dressed in high school. I related to this story, and to Willowdean, so freaking much!
This book was fabulous! It had amazing, hilarious, heartfelt characters. It had a fantastic main character who was very realistic in her thoughts and feelings (yes, I know most people thought she went back and forth too much with her confidence and self-doubt and her treatment of El and thoughts on El's co-workers, but trust me, as fat girl in high school, that was totally realistic), AND, it had drag queens, and some AMAZING life lessons and messages!
At the heart of this book was a clear message. You are beautiful no matter what! There was another message that I absolutely loved, and I have no other way to describe it except to give you the passage:
"The word fat makes people uncomfortable. But when you see me, the first thing you notice is my body. And my body is fat. It's like how I notice some girls have big boobs or shiny hair or knobby knees. Those things are okay to say. But the word fat, the one that best describes me, makes lips frown and cheeks lose their color.
But that's me. I'm fat. It's not a cuss world. It's not an insult. At least it's not when I say it. So I always figure why not get it out of the way?"
This book boasted on the importance of friendship, self-confidence, and the fact that each and every one of us may look different, but we all deserve happiness. I loved it! I absolutely couldn't get enough of it, or Willowdean and her crew!
Willowdean was a boss! I loved her spirit. I loved her confidence, and her insecurities, because I was her in high school. I loved that she was an amazing person and an amazing friend, but that she still managed to learn things about herself and her flaws. I loved that she learned to embrace her beauty, and I loved that she embraced life lessons she had learned from both her aunt Lucy, and her mother, while also learning new lessons from her friends.
Dumplin' wasn't just a story highlighting all that's wrong with fat shaming. It was a story showing us that we are all beautiful despite our body shapes, sizes, and flaws. It was a coming of age story of self-discovery, high school romance, and lessons on friendship and paying attention to how we treat others. It taught us that we should always love ourselves, and we should always embrace those that love us for our perfect imperfections!
"I guess sometimes the perfection we perceive in others is made up of a whole bunch of tiny imperfections, because some days the damn dress just won't zip."
Quotes used are from the book, written by the author.
---
Darque Dreamer
Blogger/ Punk Rocker / Quirky
Housewife
---